We're always working to make SpatialKey a better platform. We listen to our customers and integrate your suggestions and feedback into the product. If you have any suggestions or feedback we would like to hear them. Keep checking back for additions and improvements.
October 2011
Custom shape improvements
The circle shape within the custom shape layer has been replaced by a radius shape with several improvements. The radius shape allows you to change the radius either by dragging or entering a distance and center the circle by an address or a latitude/longitude.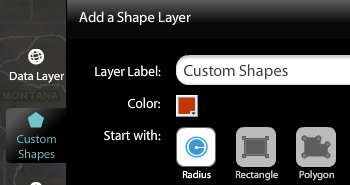 The radius feature replaces and improves upon the existing address proximity filter feature within SpatialKey. If you attempt to use the address proximity filter it will walk you through the new radius feature.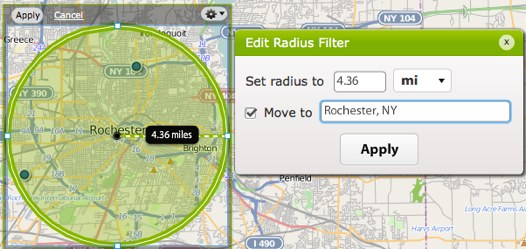 In addition the improvements to custom shape layers also allows you to manage the list of shapes, select which one are shown, which ones filter, and give them unique names and colors.
Elevation tool
Easily add elevation measurements to the map allowing you to see the elevation at any location within the United States. Add the elevation marker using address, latitude/longitude, or simply drop on the map and drag it around to the preferred location. Elevation data provided by USGS.

Distance tool
Easily add distance measurements to the map allowing users to add context to their maps.

Tool Layers
New custom "tools" map layers allowing you to add distance and elevation measurements to the map.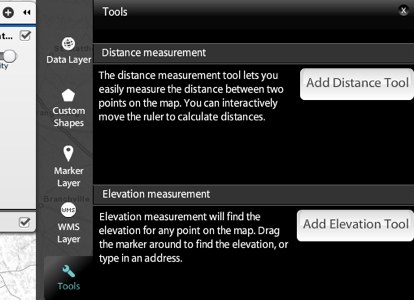 August 2011
Improved mapping with binning for point layers
Let SpatialKey create specific ranges within your data to color points on the map or create your own custom ranges.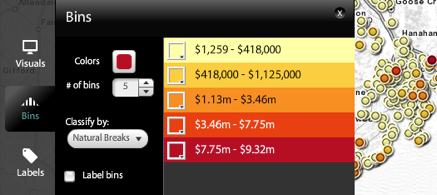 Improved mapping with with continuous range for thematic maps
Color thematic maps using a configurable continuous range.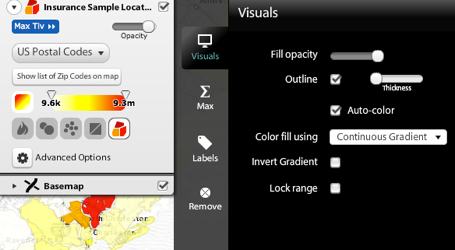 May 2011
Labeling maps
Labeling maps has been a much sought after feature from our customers. In this release have added the ability to label a points, hotspots, shapes, as well as custom shapes.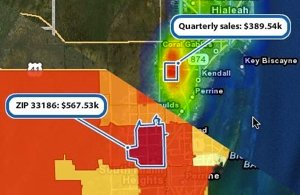 Annotate your maps with markers
Markers allow to quickly annotate a map and highlight locations of interest. When you add a marker you can simply add it to the map and drag it to a location or enter an address and have it lock to that location.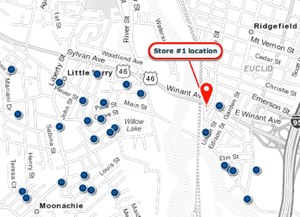 Improved pod workflow
A revised and improved pod workflow provides a more intuitive way to add visualization and filtering pods in the report interface.
Synched filters across datasets
If you have multiple datasets in a single report synched filters can make it very easy to filter the same value across multiple datasets.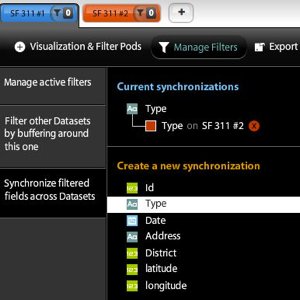 Public reports
Public reports allow you to publish any report within SpatialKey and make it available to embed on your website or easily email a link to a report and not require authentication.
Bookmarking and back button support
SpatialKey now allows you to link directly to a report, dataset, configuration panel. This feature makes it simple to bookmark a link to a specfic report or share a direct link with a coworker.
Map layer manager
A completely reworked layer manager makes managing multiple map layers much easier. Gain access to common controls very easily without going into complex configuration panels.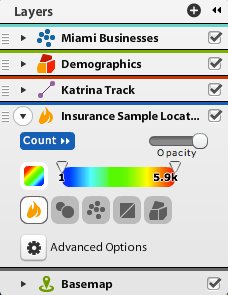 Map legend
A map legend that features all of the different layers on the map in one location. You can hide the map layer manager and use the legend for screenshots and presentations.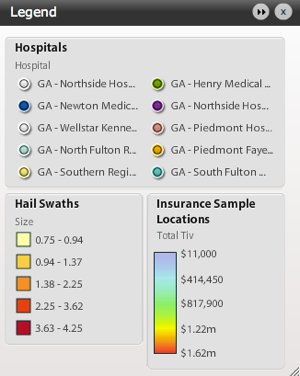 Basemap controls
Basemap controls have been moved from the map control bar into the layer manager allowing for easy access and easy customization.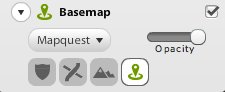 Point mapping
Point mapping adds a new way to present your data on the map. Through the combination of heat maps, thematic layers and point layers you can overlay multiple datasets and present you data in new and compelling ways.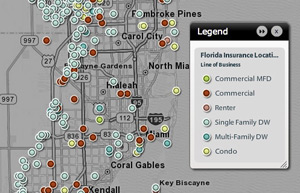 For additional details from the May 2011 release, check out the release notes.
November 2010
Shape filter with custom shapes
Draw custom shapes on the map to filter your geographic data.
Joining datasets and geosets
This feature enables joining two or more dataset by a common column or a spatial join using a geoset (shape file) that identifies which points fall within a shape.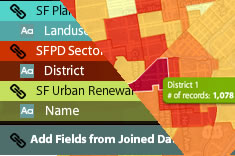 Custom map layers with WMS
With the addition of WMS in Spatialkey you can overlay imagery on top of the existing map tiles or use a WMS layer as your backdrop instead of using the default Mapquest map tiles.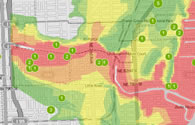 Additional map providers
SpatialKey's primary map provider will continue to be Mapquest but if you have a need for other map providers we have an expanded offering of providers. In addition to Mapquest we provide Open Street Map free of charge and Google, Yahoo and Microsoft maps for an additional licensing fee.
Export improvements
Each of the pods (timeline, histogram and categorical pods) now have export options that allow you to export the aggregated data. Additionally you can export a view of the map view through the "Save/Share -> Share a screenshot…" .
For additional details from the November 2010 release, check out the release notes.