We want to thank all of our clients for their continued support and commitment to evolving the SpatialKey product suite. 2015 is proving busy already but we wanted to take a moment to recap and reflect on 2014 and highlight our key focus areas from the year.   Click below  for deep-dives on:
We thoroughly enjoy working together to deliver innovative products year after year. 2015 is going to bring even further advancement – get your exclusive sneak peek here. We're excited to tackle new challenges and bring you even more features and applications in the coming months!
Cheers,
– The SpatialKey Team
---
New Apps Released in 2014
Flood Analyst
Flood Analyst enables insurers to identify and monitor flood accumulations worldwide to inform risk management strategy. Together with SpatialKey Flood Underwriting, insurers can now manage and write flood risk in a consistent manner, giving them a true enterprise flood risk management solution.  Everyone can work from a common baseline – data and understanding.  With Flood Analyst, you can:
Enhance your portfolio with detailed flood depths from multiple modeling companies.
Develop and calibrate a holistic view of risk using a blend of the best science available.
Quickly compare competitive and complementary expert sources of flood hazard data.
Focus your analysis on areas of greatest importance (e.g. high hazard, high value concentrations) and areas of greatest potential opportunity (e.g. untapped regional markets).
Interrogate adverse regional concentrations to understand risk composition and location level drivers of risk to inform underwriting strategy.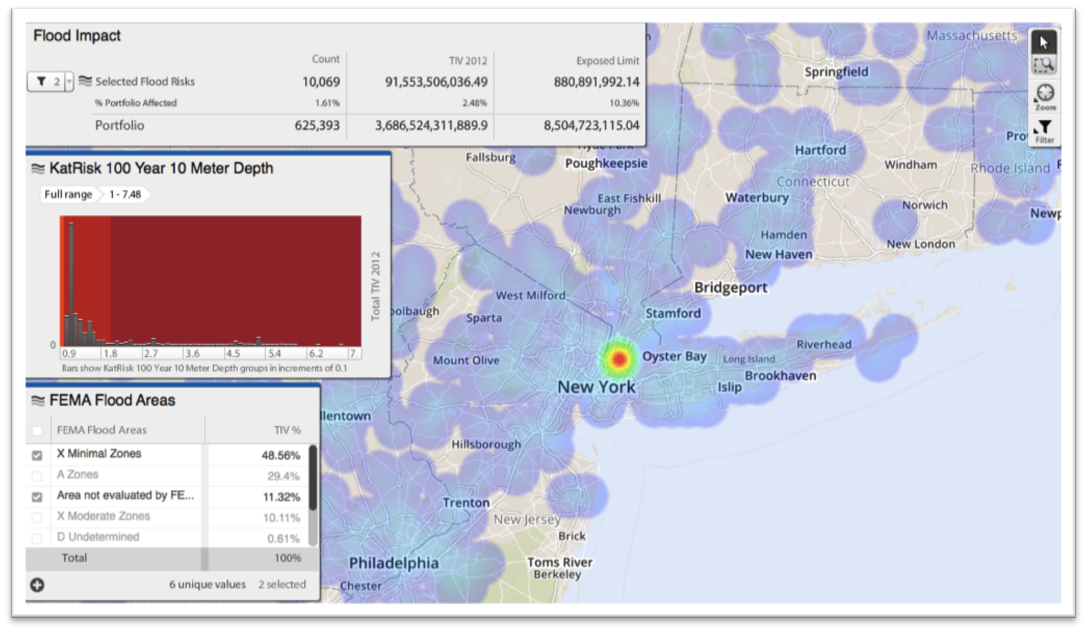 Download more information on Flood Analyst here. If you are interested in licensing the Flood Analyst, contact us to learn more.
Flood Underwriting
Underwriting was a key focus for SpatialKey in 2014, and we will continue to make significant investment in extending our capabilities throughout 2015. Several enhancements to our Flood Underwriting app were made available in 2014, including usability enhancements, better reporting, and global coverage, through our partnerships with JBA Risk Management, KatRisk and Willis Re.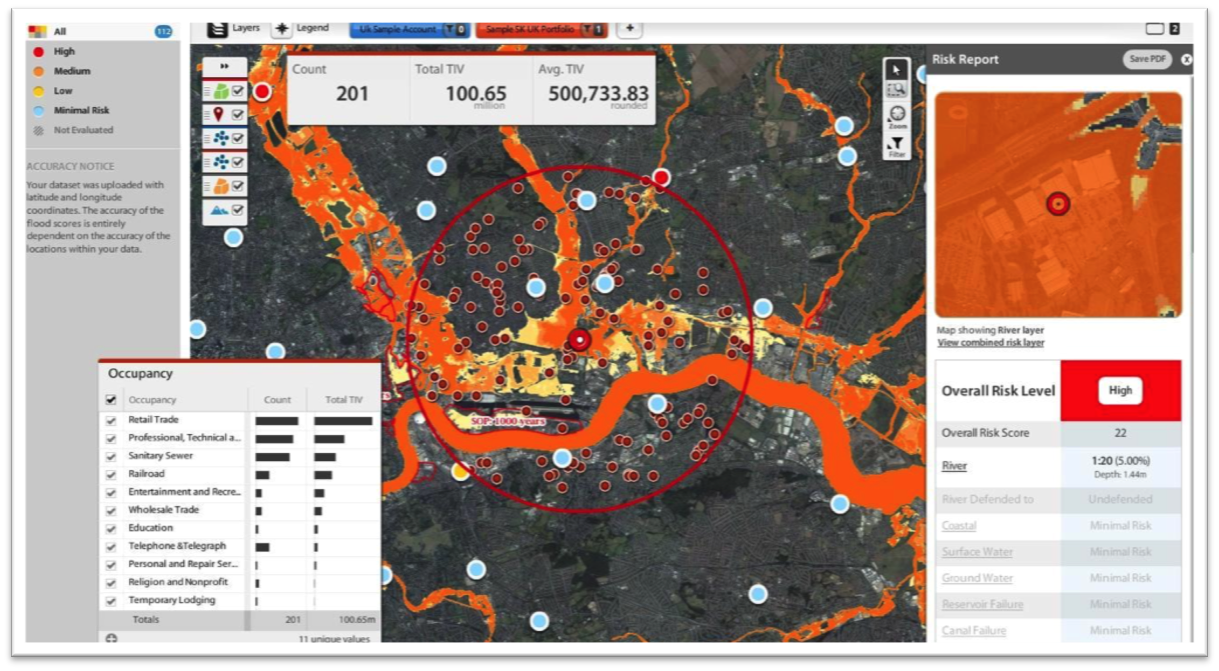 If you don't already license Flood Underwriting or would like to know what countries are supported, contact us.
Accumulations
The new Accumulations app arrived in 2014. The Grid model, the first of many accumulation models, allows you to visualize your top accumulations based on user-configured accumulation scenarios. For example, you can find where you have the most risk within any 500 x 500 meter square.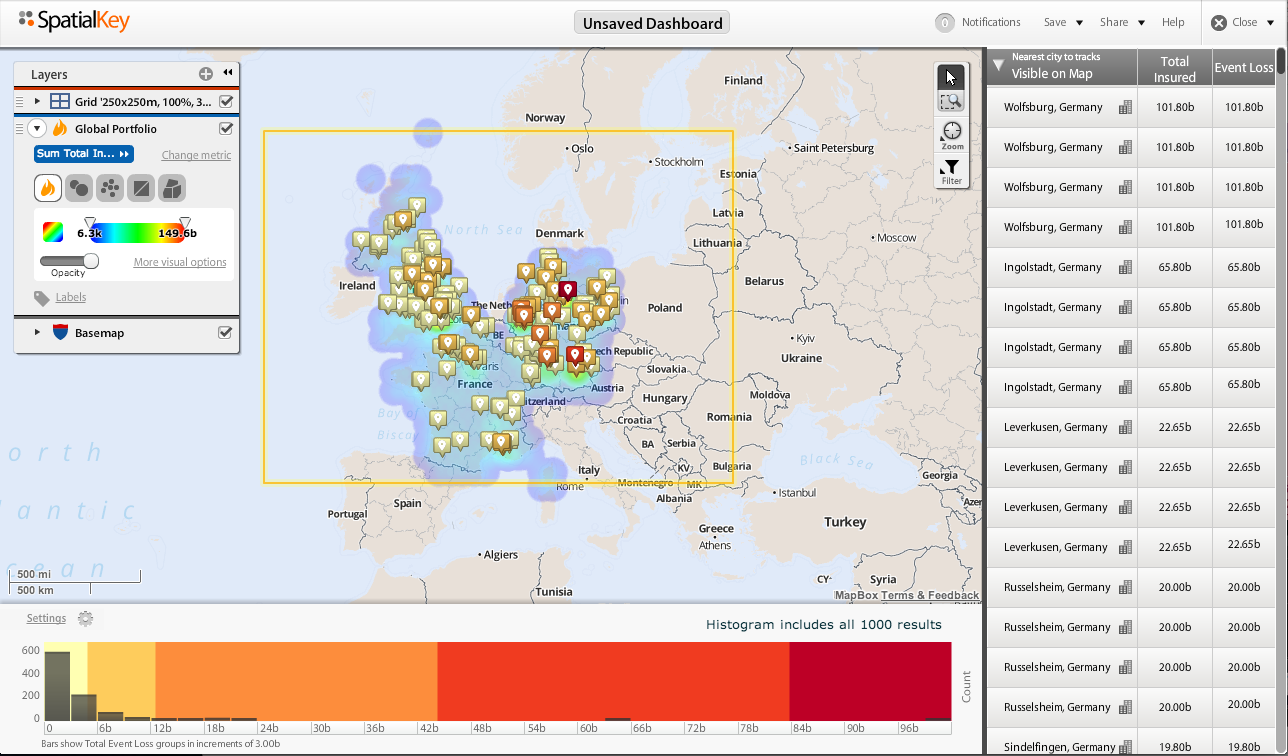 Stay tuned in 2015 as we release more models within the Accumulations app including:
Shape
Identify and monitor exposure concentrations by: geopolitical units (CRESTA or postal codes), business territories (rating territories or risk zones), or event footprints.
Ring
Identify peak global exposure accumulations with configurable user-defined radii and geographical extents to focus your analysis.
Target
Identify peak global exposure accumulations against a reference dataset, such as terror targets, acquisition portfolio, or points of interest.
If you are interested in licensing the Accumulation app, please contact us.
Portfolio Composition
Portfolio Composition empowers you and your management team to stay on top of your portfolio's risk position and composition via pre-packaged, interactive reporting. Decision makers can now quickly respond and adapt risk management strategy based on patterns and trends in your exposure and loss data. This app can be accessed from your desktop or tablet, so you have visibility into these insights, anytime and anywhere.
Visualize performance by line, operating unit, policy expiration dates and geography. When you have focus on business drivers, drill in further to understand risk composition (e.g. occupancy and construction characteristics) in more detail. With the Portfolio Composition app, your organization is empowered with a coherent and consistent view of your portfolio, leading to better decisions.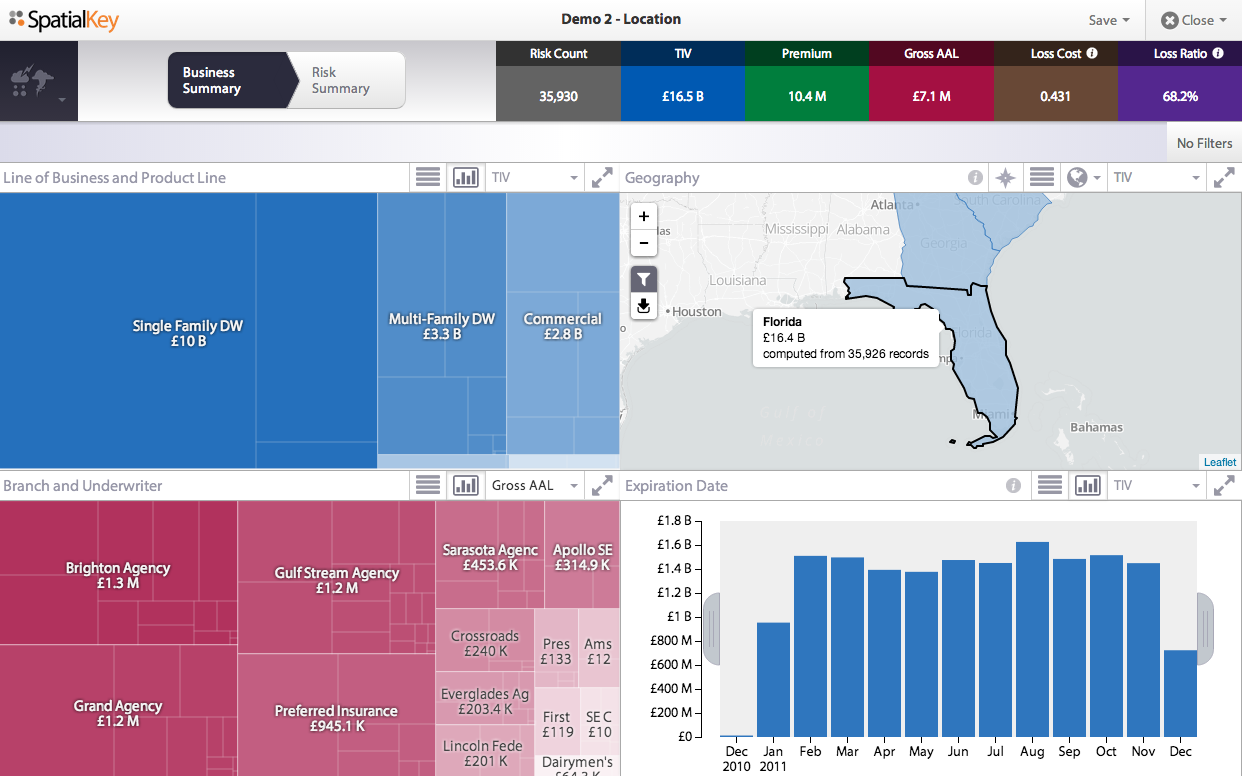 In 2015, we will be rolling out a comparison feature within this app, so you can quickly identify and adapt to changes in your portfolio. To learn more, please Contact us.

Expanding SpatialKey's Global Reach
In addition to integrating international flood data, we took a number of other steps in 2014 to ensure that SpatialKey works well for our multi-national (re)insurance customers.
National Currency Support
We have added the ability to select your desired national currency for any data field with a currency data type. This will help SpatialKey display your data with the appropriate currency symbology in any SpatialKey dashboard, helping you clearly communicate reporting currency to others.
Global Language and Character Support
We also now support non-English characters in your data, dashboard names, and more. Any characters that can be displayed on your computer are now supported, such as Japanese Kanji or accents characters in French or Spanish.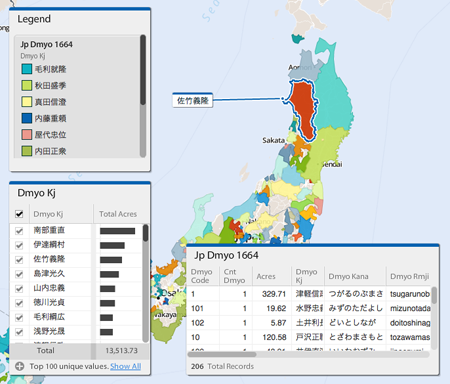 More Powerful Analytics: Advanced Calculations
You now have flexibility to create custom calculations in your dashboard by combining different metrics in your data. There is no longer a need to calculate ratios, summations, differences, etc. outside of SpatialKey.  Quickly configure and review premium adequacy, market share, change over time, and other risk measures.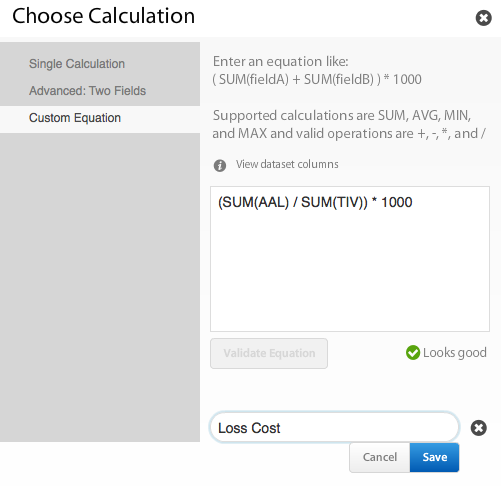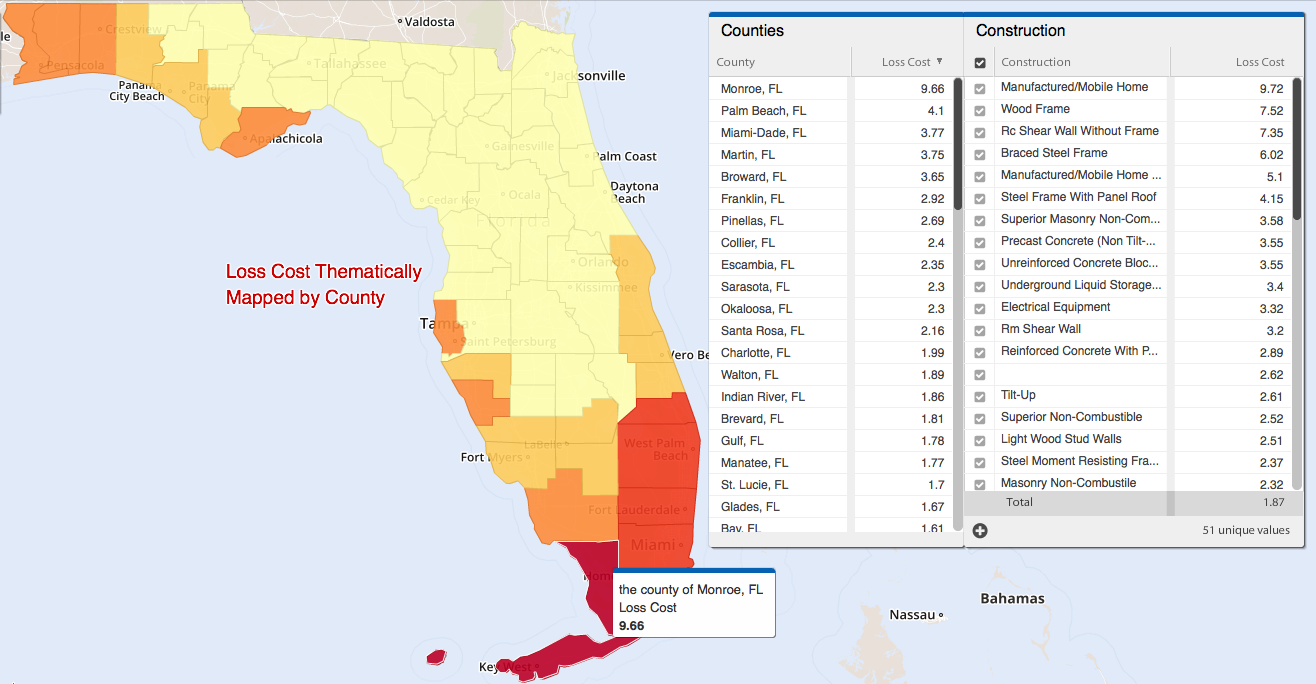 Powerful Comparison maps utilize advanced calculations to show changes from different points in time (or other metrics) allowing for a seamless visual representation of your data.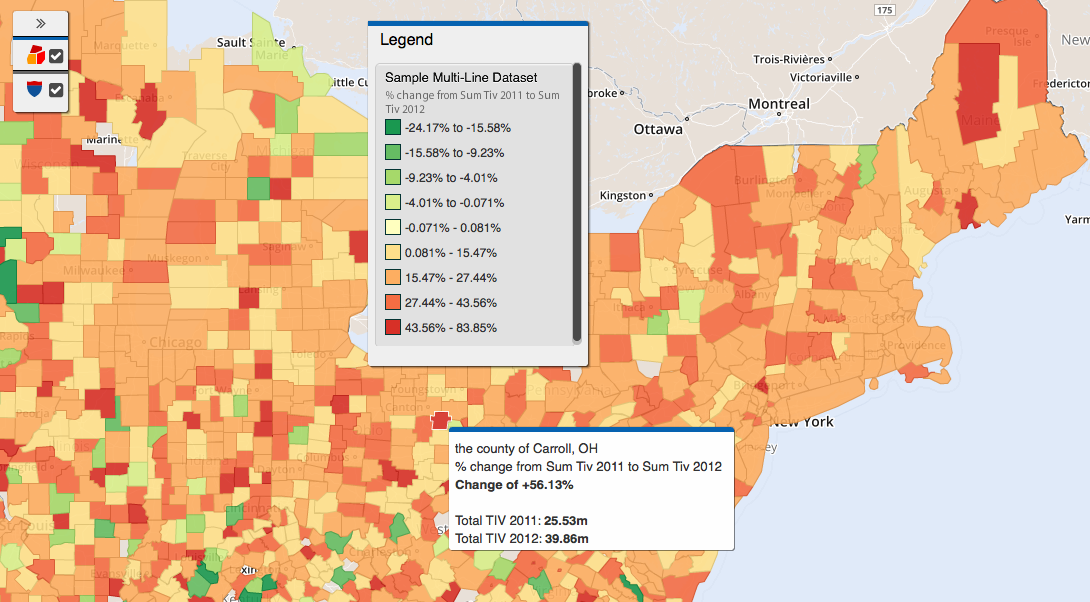 User Experience Improvements
User Experience Improvements
SpatialKey's ease of use is what sets us apart, and the user experience is an area where we continue to heavily invest. In each release we roll out significant improvements to usability, based on customer feedback. Usability enhancements included:
Role-based user permissions to make managing users easier
Dashboard sharing making it easier to communicate and collaborate
Notifications  giving insight into the analyses you're running and have completed
2015 Sneak Peek
Many of the themes of 2015 will be building on top of the strong foundation delivered in 2014. Here is what you can expect this year:
More hazard data for exposure management and underwriting workflows. We're natively integrating more data providers, based on market demand, to expand the breadth and depth of our offering.
Additional Accumulation models and extended functionality, including integration into our underwriting application.
Updates to Portfolio Composition to support comparison between portfolio vintages to see how your exposure is changing over time.
Continued user experience enhancements