SpatialKey Event Response with European Windstorm V2.1
This release further supports portfolio risk and exposure analyses using peak wind gust hazard information in Europe. Take advantage of SpatialKey's continued focus on bringing multiple, robust event data sources and geospatial insurance analytics into a single, integrated event response application.   
The following new European windstorm features are available in this release:
Additional, reliable European windstorm event forecast data

:  Peak wind gust forecast information created with data from Météo-France. Forecast data from Météo-France is available in addition to or instead of EuroTempest.

Portfolio impact

:  View event impact details including portfolio TIV and Policy Exposed Limit, when available.

Notifications

: Receive and view notifications when processes finish, e.g. an event response analysis has finished running.

Event Response navigation

: Progress in the analysis set-up steps are indicated, with options to go back to previous steps.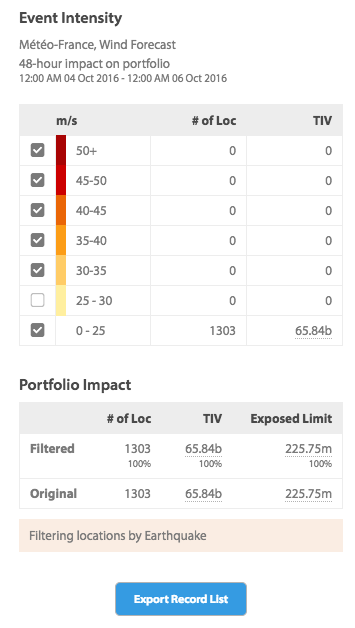 UW 2.1 release
We first built Spatialkey Underwriting as a single-purpose flood underwriting application, and it evolved into a multi-peril solution with the release of Underwriting 2.0. Underwriting 2.1 includes some small enhancements and bug fixes. (Please note that each organization is migrating to Underwriting 2.0 on varying schedules, so please be in touch with your SpatialKey administrator or account rep for your organization's timing.)
Ad-hoc accumulation analysis


We've added the ability to change the radius on your single-ring accumulation analysis so you can re-run that analysis on-the-fly. The app now runs the full advanced accumulation analysis with the new radius, applying dozens of rings that run along a grid—including a ring centered around the prospective risk—to calculate your peak accumulation.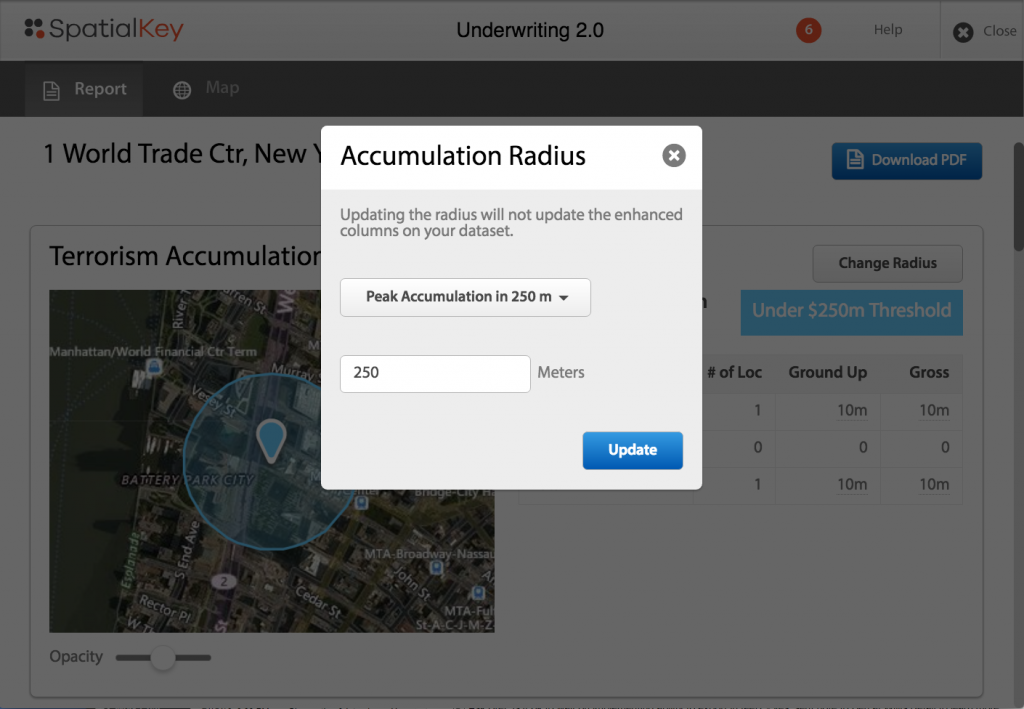 Sharing schedules from Manage Data repository


We've added the ability to pull in a schedule from the Manage Data repository within SpatialKey. This gives you the flexibility to upload a schedule into the Manage Data area of SpatialKey, share it with other users in your organization, and make it available to them for use within the new Underwriting app. Just click the Advanced Dataset Selection link in Step 1 of the app's setup to select from a list of the existing schedules available. Please note: any schedules saved in the Manage Data area will count against your quota, and although they will expire from the Underwriting app within 30 days, they will remain in the Manage Data area until you remove them.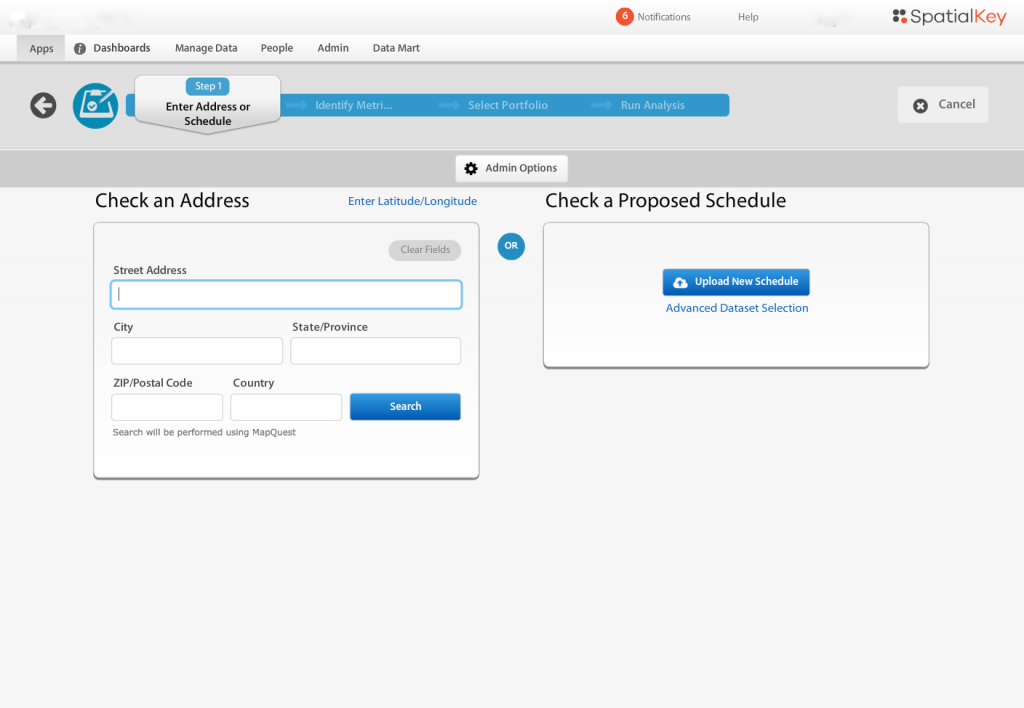 Upload portfolio
In addition to being able to run analysis against an existing in-force portfolio from within SpatialKey (stored in the Manage Data area), you can now upload a new portfolio directly in the Underwriting app.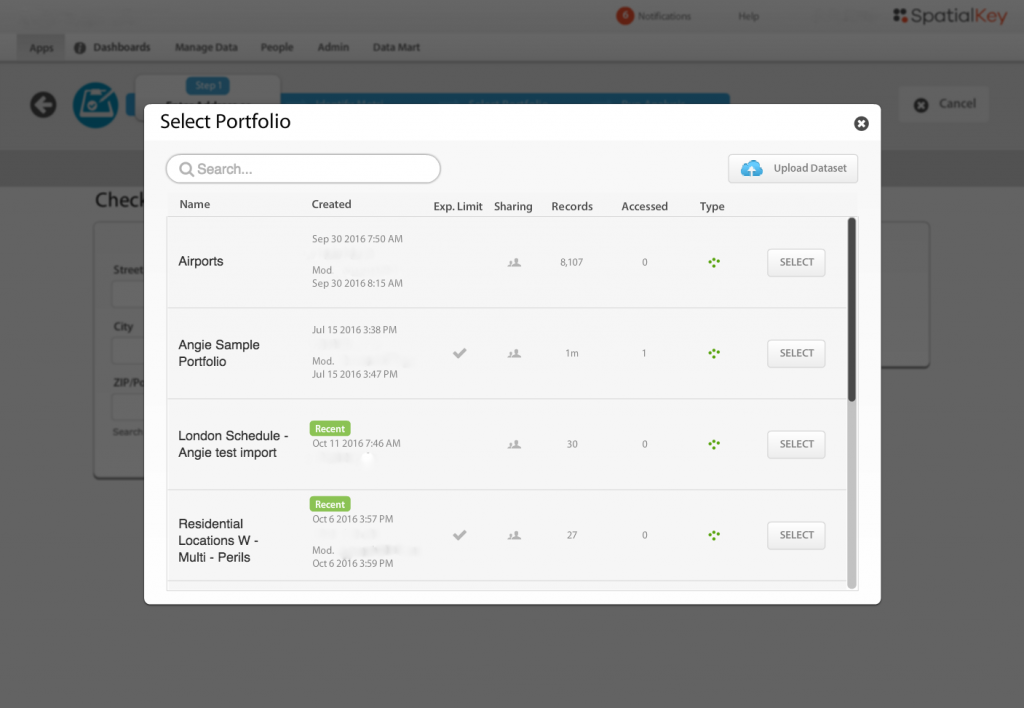 UW 2.1 enhancements & bug fixes
Display FEMA Zone & Sub-Zone together

When viewing FEMA Flood results, you will now see the Zone and Sub-Zone reported together in the same row, e.g., "X 500."
Hide Northern Ireland (NIE) when not included for Great Britain and vice versa

When running a location within the U.K. against JBA Risk Management flood models, we will now distinguish between locations within Great Britain and Northern Ireland by displaying only the relevant JBA model. Previously, you would see both of JBA's models for Northern Ireland and Great Britain for a single location.
Information hover text added to each model when applicable (for example, "JBA France" will be displayed and hover text would include "JBA France/2015v4" for enhanced specificity)

Map locations are now filtered by peril in the accumulation model

Fixed an issue to notify users when there are no risk models for a location

Fixed a bug where the geocoding accuracy card was not displaying in the correct location within the report

Fixed an issue where the accumulations report was incorrectly showing a pie chart

Fixed a formatting issue where the "Not Enough Info" popup bubble was cut off

Removed a layer from the layer manager that was erroneously displayed

Refined the display of lat/long within the report

Fixed a bug where dragging a manual marker into the ocean generated an error message

Fixed a bug where FEMA was excluded from the analysis when dragging a manual marker in PR