UW 2.2 Release
Please note that each organization is migrating to Underwriting 2.0 on varying schedules, so please be in touch with your SpatialKey administrator or account rep for your organization's timing.
Select hazards and accumulation analysis in setup
This update gives you the ability to decide which analysis you'd like to run in the setup screens. By default, you will have access to everything provided to your organization (e.g., flood, surge, wind, wildfire, earthquake, crime, terror, etc.) with the added benefit of being able to filter the information so you can focus on the analysis that is most important to you. For example, you may only need to get a quick look at your flood risk, or perhaps you want to turn off a model you pay for transactionally. Or, maybe you only write terror policies, while others in your organization focus on flood and hurricane. Whatever the scenario,  you will have the control you need to hone in on what's important to you and your line of business.
To enable this feature, have your SpatialKey Administrator turn on the "Enable Reports Selection" within the Admin Options in the Underwriting 2.0 application: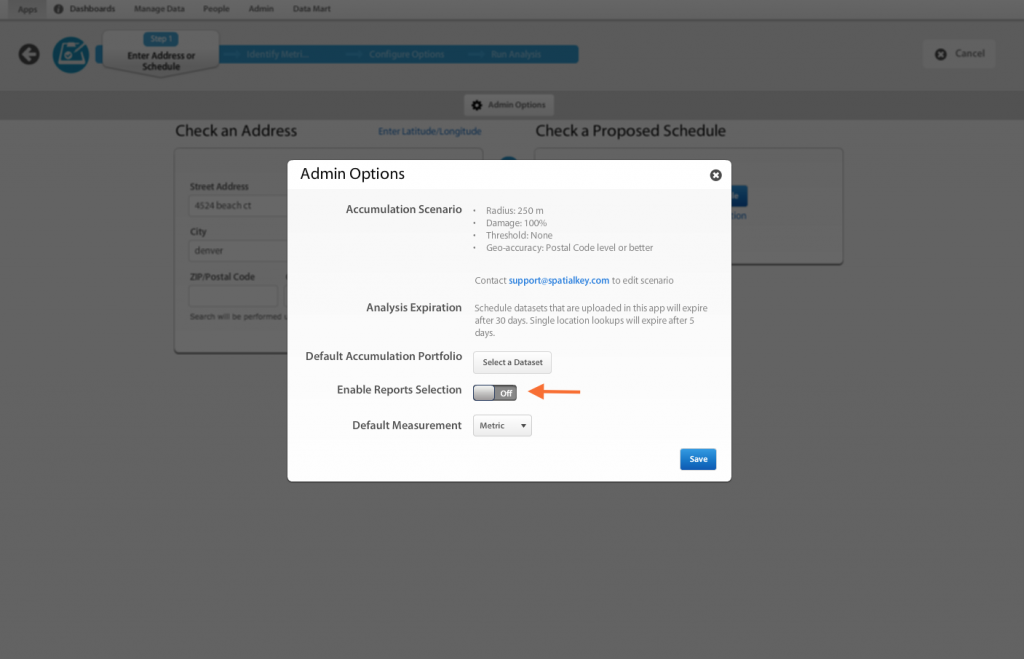 The Report selection will then be enabled in Step 3 of your setup: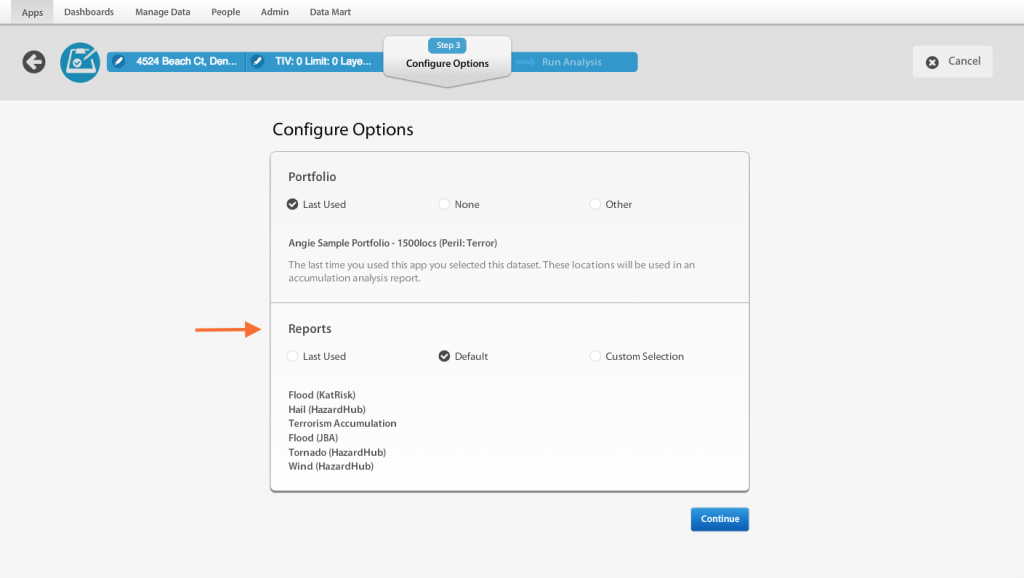 Fixed an issue where a dataset from Manage Data was getting deleted when clearing history within Underwriting

Made the display of count and TIV consistent in the scorecard & added TIV to the geocoding card

Made the loading screen extend to the bottom of the screen when the page scrolls

Removed a funky character that was displayed on the PDF report and fixed another minor formatting issue

Added a hover tooltip to magnifying glass that says, "View in full map"

Fixed an issue where a specific latitude/longitude in Thailand failed to be identified as such

Fixed visual bugs in error messaging

Fixed an issue where overwriting datasets originally imported via the API would lead to errors

Improved performance during login

Improved performance when using proximity filtering between datasets