May was a fun month for SpatialKey, and luckily fun for us means a load of new releases for our customers. Click below to see what we've been working on.
Ring Accumulations
This month, we've further expanded our suite of accumulations models and are excited to introduce our Ring accumulations model. The Rings model places overlapping rings over your data and calls attention to the highest exposure concentrations. We worked with some of our current customers and their data to bring you comprehensive ring placement and de-duplication methodology, giving you a powerful analytic tool for accumulations management.
Simply configure your scenario (radius, thresholds, and damage factors) and select a geographic extent to focus your analysis.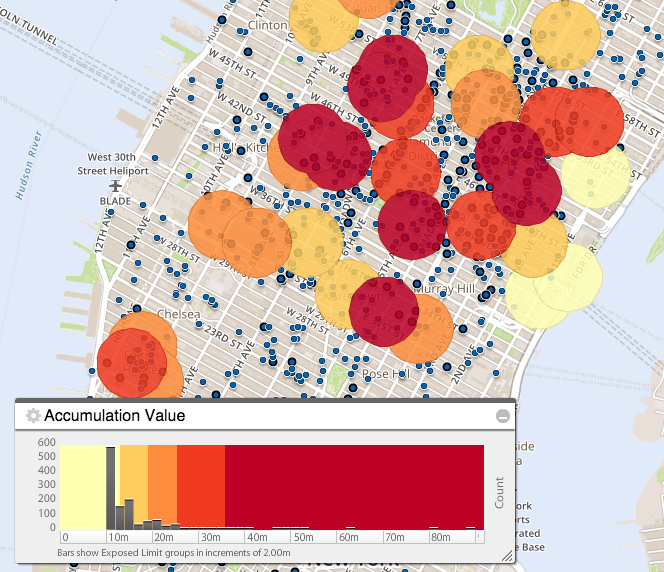 Image above is showing 250 meter accumulations where exposed limit is greater than 10 million.
Use the Accumulations app to filter down your analysis for a deeper understanding of locations that are driving your peak accumulations.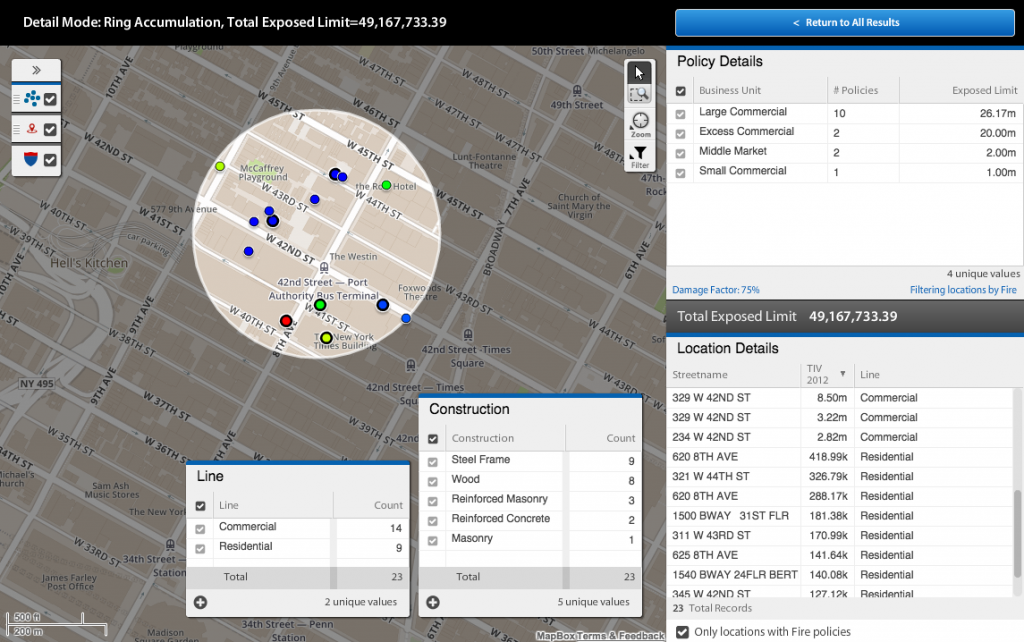 In addition to the Rings model, look for these enhancements within Accumulations:
Manage your previously run accumulations
Run Grid model on an exposed limit basis
Configure damage factor for accumulation analyses
Export accumulation results
Throughout all of this, we've kept performance a top of mind priority and we are pleased with the results. To give you a sense of the results, we ran County Shape and Ring (250 meter radius) exposed limit accumulations on a 500K record US-wide portfolio – each analysis completed in under 15 minutes. The ease of use and speed of analysis provide you with flexibility to run multiple what-if scenarios, allowing you to dive deeper into analysis than ever before.
Hail
Just in time for the hail season, SpatialKey Hail is now directly integrated with more hail data from expert sources. Hail is the newest app in SpatialKey's suite of event analysis apps.
Begin by selecting a date of interest and build your dashboard to start quantifying the hail impact on your portfolio and specific insureds.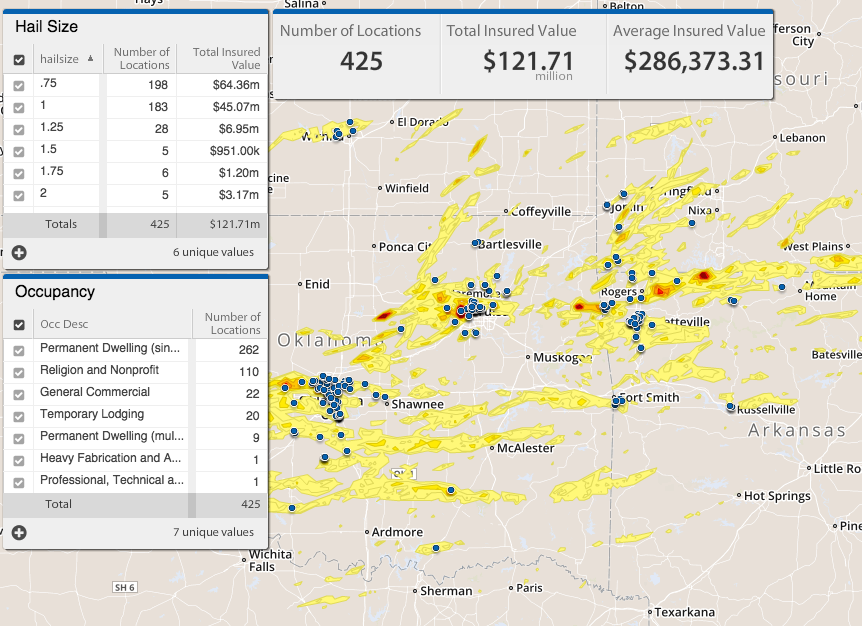 Drill into specific areas for a quick assessment of who was impacted and efficiently mobilize claims resources to the right locations.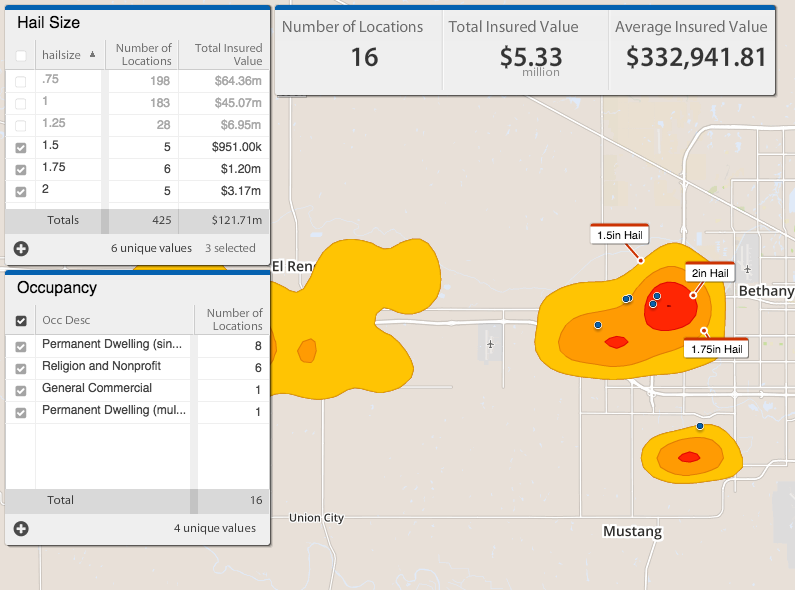 Underwriting
Back in March, we made an enhancement to support two models per country, bring you more flexibility and data points in your underwriting analysis. Responding to customer demand for even more data, we've expanded our underwriting solution to support multiple peril models per country. Now you can look at a prospective locations risk to flood, surge, wind, and more, all in one place.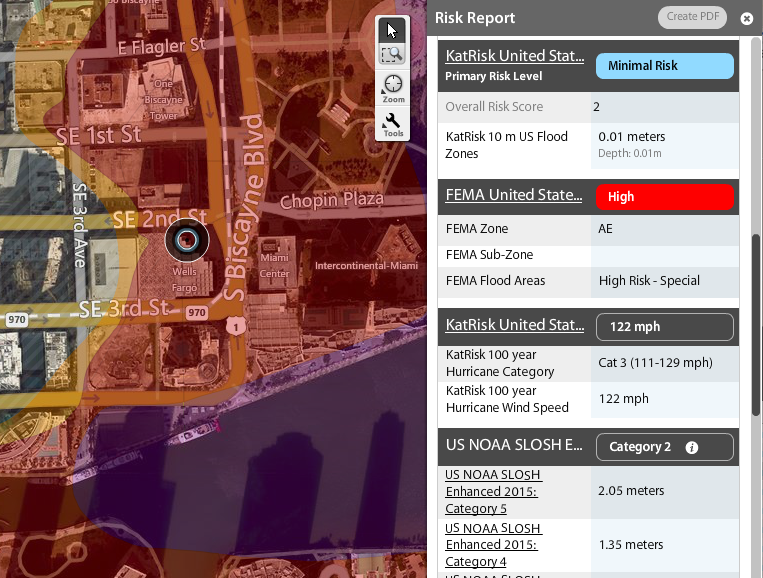 Stay tuned for additional expansions to our underwriting solution slated to come out later this year.
Hazard Analyst
After integration of hundreds of hazard data layers, we realized the model screen needed some work to support this influx of information. To make Hazard Analyst even easier to use, we've added more search and filter capabilities for layers, and consolidated layers by provider and model, so you can quickly find and kick off analyses.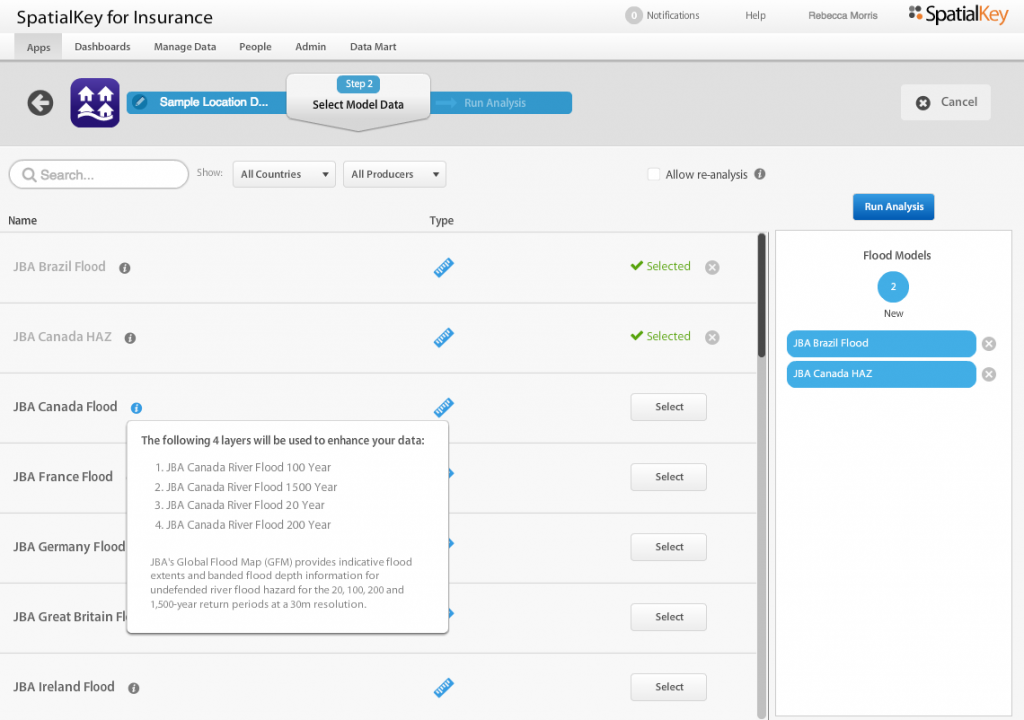 Data Access API
We are continuing to expand our API capabilities with a new concentration API call which consists of a set of  calls that allow you to programmatically get insight into the concentration of locations that fall within an arbitrarily sized circle. All calls allow you to specify a latitude and longitude to act as the center of the circle as well as the desired radius in a variety of units. The API call will then return information back about the locations that fall within that circle. This additional API capability is an enhancement in our underwriting solutions to help you run more effective analyses for your business.
Please contact sales@spatialkey.com if you'd like to learn more about these apps and licensing options.