The May 2012 Release of SpatialKey is one of the biggest releases we've shipped. We're extremely excited to get this release into the hands of our customers.
What's New at a Glance
SpatialKey Apps
Introducing the Natural Perils Suite
Improved User Experience for Managing Data and Dashboards
Favorite Dashboards
New Base Maps
Advanced Graduated Circles
SpatialKey Apps
Apps in SpatialKey provide a custom workflow and interface and automatically integrate with live third-party data sources like NOAA and the USGS. Our Hurricane Forecast App is a good example that brings together insurance exposures with hurricane data from NOAA and allows users to create what-if scenarios by dragging the forecast to see what might happen if the storm changes course.

While an analyst could have gone out and downloaded the hurricane data and accomplished something similar in SpatialKey Analyst, the Hurricane Forecast App makes performing such an analysis incredibly easy, and removes the burden of finding and loading in the data from NOAA.
All existing customers have access to the Map Analyst and Blank Canvas apps, which include all the SpatialKey functionality you have used in the past.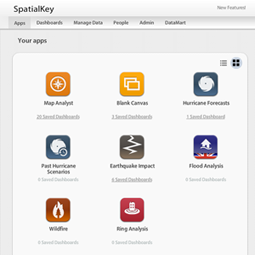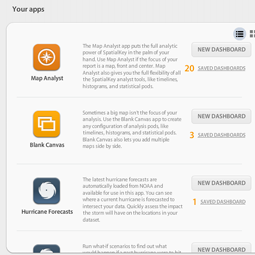 Natural Perils Suite
For our insurance customers we're launching the Natural Perils Suite, which includes the following set of apps: Hurricane Forecast, Past Hurricane Scenarios, Earthquake Impact, and Wildfire Response. In the near future we will release a Tornado/Wind/Hail app to round out the suite. Each of these apps integrates near real-time data from third party sources like NOAA, USGS, and GeoMAC.
Contact us if you're interested in learning more about or licensing these apps.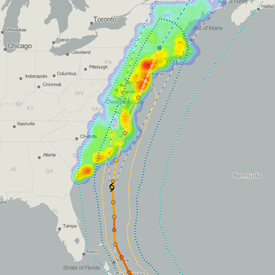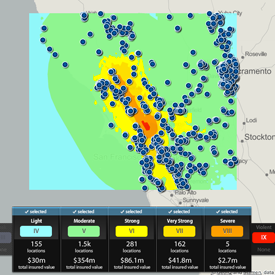 Future Apps
Whether you are in sales, marketing, insurance underwriting, or insurance catastrophe modeling we want to hear from you. The apps we're launching today, Map Analyst, Blank Canvas, and the Natural Perils Suite, are just the beginning. With the new app driven workflow we plan to build more purpose built applications allowing users to bring together their data with data from third party sources to answer important business questions in an easy to use, wizard driven workflow.
Managing Data and Dashboards: Focusing on the User Experience
We're constantly improving the overall user experience of SpatialKey. We work directly with our customers to find out what you're trying to do and what we can do better to help you do your job. We've revamped large portions of SpatialKey to improve the workflow of working with data.
Launching Apps
When you log into SpatialKey you'll instantly notice the new user interface changes. Your new starting point is the Apps tab – this is the launching point where you'll begin your analyses. Previously you would go to the dataset tab and click "create report" and select from one of our report templates. With the new workflow you now start on the Apps tab and first select an app.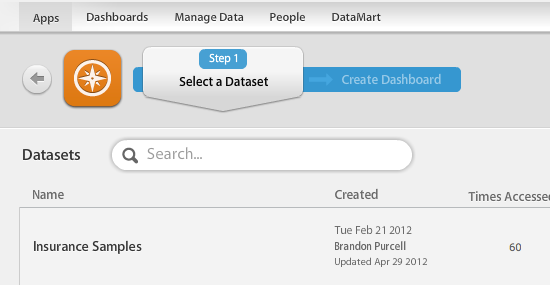 You will be taken through a workflow that will step you through launching the app by selecting a dataset or third party data that is required for the app (such as picking a certain hurricane for analysis). The upload process has also been integrated directly into this workflow, so whether you're using existing data or uploading new data you always start by selecting an app. The new workflow should make it much easier for new users to get started quickly and not get in the way of experienced users.
Managing Your Dashboards and Data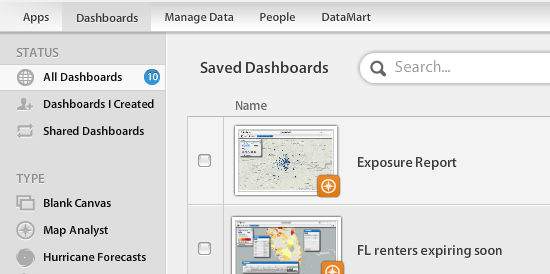 The Dashboards tab, previously known as the Reports tab, has been improved. Dashboards can be filtered and sorted by apps and you can also see how many times you have accessed a particular report. Additionally the folders structure has been reworked to make it easier for you to organize your dashboards.
Favorite Dashboards
If you have a set of dashboards that you use often you can add them to your favorites folder. These dashboards will show up right away on the first screen you see when you log into SpatialKey. From then on it only takes a single click to jump straight into one of your favorite dashboards.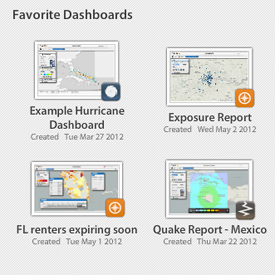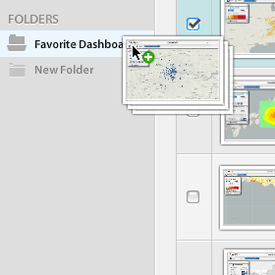 Administrators can also control which favorites are shown for others users that may not be as familiar with SpatialKey.
Notifications
Some processes can take a while to process in SpatialKey. If you're uploading a large dataset, or if you're doing advanced processing on your data, you'll now be notified in SpatialKey when the process is complete.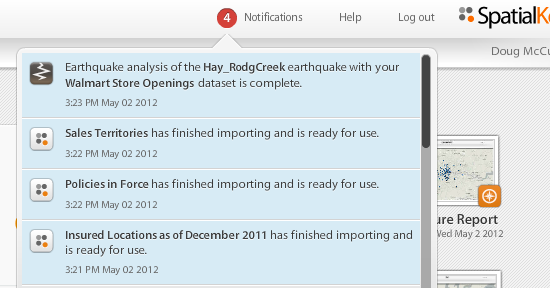 New Features within Dashboards
Of course we aren't content with simply improving the user experience of launching dashboards, we've also added a few new general features to SpatialKey.
New Beautiful Base Maps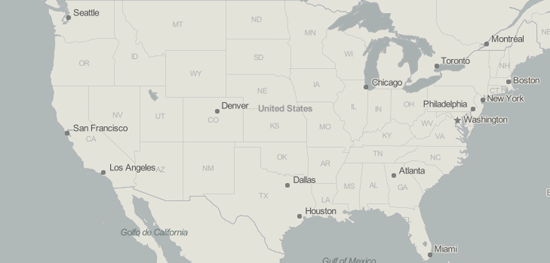 We've added brand new base maps that make your data really stand out. We want to make sure your data is the center of attention when you're creating maps. While city names, roads, rivers, and buildings might be useful landmarks, often they simply clutter the map in a visually distracting way. The new base maps are subtler and cleaner, allowing the focus to be on your data instead of brightly colored crisscrossing highways.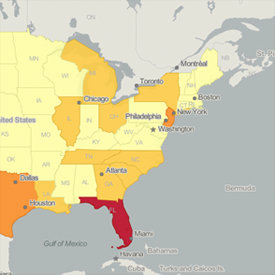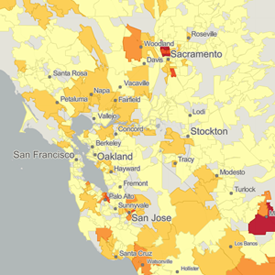 In addition to the new look, these new base maps also add some new features. You can overlay city labels or road labels on top of your data to produce some unique and beautiful maps. These base maps are brought to you in partnership with our friends at GeoIQ.
Better Zoom Levels for Maps of the US
With the new base maps also come tweaks to the different zoom levels. The new zoom levels provide finer control, often when looking at the country-level. For example, if you often make maps that cover the continental United States you'll love the new zoom levels because they work better to fit these views of the country into reasonable screen sizes.
For Power Users: Advanced Graduated Circles
The graduated circle map renderer now supports bivariate rendering, providing the ability to display two different aggregates at the same time. One aggregate controls the size of the graduated circle while a second aggregate controls the color of the circle. For example if you were looking at real estate data you could show the average sq footage for a house with the size of the circle and the color of the circle could be controlled by the average price.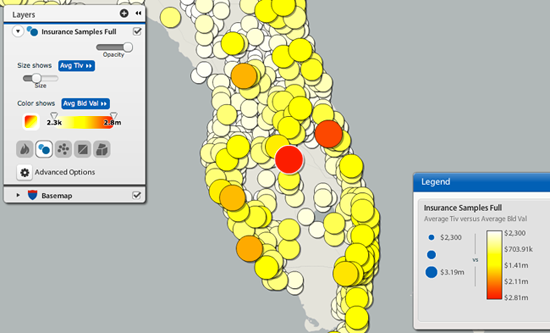 We hope you are as excited to use these features as we are to bring them to you. Our best innovation comes from our great users, so please keep the great feedback coming. Please drop us a line or send us a tweet with your feedback.