Our last major release was only two months ago but we have been working hard to release several new and exciting features. The May release follows up on the previous release by continuing to improve the reporting interface. In this release we have reworked and improved the interface used to add pods within a report. In addition we have added the ability to label maps, something our customers have been asking about for a while. There are several other features, improvements and bug fixes in this release as well.
We like to hear from our customers if you have any feedback drop us a line.
What's new
| | |
| --- | --- |
| | |
| Labeling items on the map | Improved pod workflow |
An overview of what you will find in this release:
Improved report pod workflow
A revised and improved pod workflow provides a more intuitive way to add visualization and filtering pods in the report interface. This will also allow us to easily add new types of pods and more powerful features like comparison in the future. SpatialKey now presents you with a list of visualizations and filters and tools and based upon your selection you are provided a customized workflow to assist you in adding pods to a report. The list of available fields is still there but is filtered upon your first selection. The following video walks you through adding pods in the new interface and also provides a high level overview for adding and managing pods and filters.
For more details, check out this

video

.

Managing pods and filters

Explore the new interface for adding pods:

– Overview of pods and filtering.

– New interface for adding pods.

– Managing filters in the new interface.
Labeling points, hotspots and shapes
Labeling maps has been a much sought after feature from our customers. In this release have added the ability to label a points, hotspots, shapes, as well as custom shapes. SpatialKey makes labeling easy, in the screenshots below you can see an example of labeling a shape. See this article for more details.
| | | |
| --- | --- | --- |
| | | |
| Step 1: Click on map | Step 2: Create the label | Step 3: Drag label to position |
Labeling examples
| | | |
| --- | --- | --- |
| | | |
| Labeling a point | Labeling a heatmap | Labeling a custom shape |
Annotate your maps with markers
Markers allow to quickly annotate a map and highlight locations of interest. When you add a marker you can simply add it to the map and drag it to a location or enter an address and have it lock to that location.
| | |
| --- | --- |
| | |
| Add marker from the layer manager | Marker shown with label |
Synched filters across datasets
If you have multiple datasets in a single report synched filters can make it very easy to filter the same value across multiple datsets. Previously you had to open a filtering pod for each datasets and filter them independently. Synched filters allow you to setup a link on columns across the datasets. Then whenever you filter one of the columns from the synched columns on the datasets it filters the others using the same filter. In the example below the same dataset has been added twice to the same report and the "type" column has been synched.
| | |
| --- | --- |
| | |
| Viewing and creating synched filters | Synched filters show on pod |
The following video walks you through the process of adding, managing an using synchronized filters using multiple datasets. This article also walks you through the process of creating and managing synched filters.



For more details, check out this

video

.

Synchronizing filters
across datasets

Create a filter that is used across
multiple datasets:

– Adding the filter.

– Using the filter.
Public reports
Public reports allow you to publish any report within SpatialKey and make it available to embed on your website or easily email a link to a report and not require authentication. In order to take advantage of this feature public reports will need to be enabled on your organization. If this is something you are interested in contact us for more information.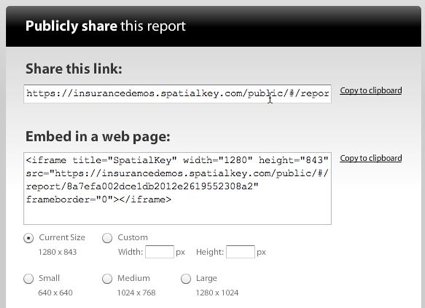 Public report wizard
Bookmarking and back button support
SpatialKey now allows you to link directly to a report, dataset, configuration panel. This feature makes it simple to bookmark a link to a specfic report or share a direct link with a coworker. In addition SpatialKey now provides back and forward button support in your browser.