2015 is turning out to be a busy year already. We've been working on a variety of enhancements that will help you work smarter and faster:
New Model in the Accumulations App
We are excited to announce an all-new Shapes model to complement our existing models within the Accumulations app. The Accumulations app delivers analytics and visualizations to help you quickly identify peak portfolio accumulations, understand risk composition with policy and location drivers, and monitor capacity utilization and diversification. This new model helps you monitor exposure concentrations based on:
Geographic boundaries
User-defined boundaries
These boundaries could include geo-political units (e.g. CRESTA or postal codes), business territories (e.g. rating territories or risk zones), or event footprints. Flexibly select from any metric in your dataset or choose accumulation by exposed limit to customize the report to how you want to see your risks.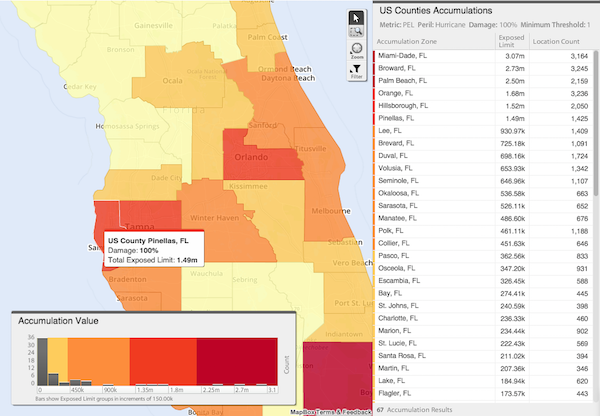 Image above is showing Counties in Florida ranked by Exposed Limit. Image below is identifying driving risks for Pinellas County, FL.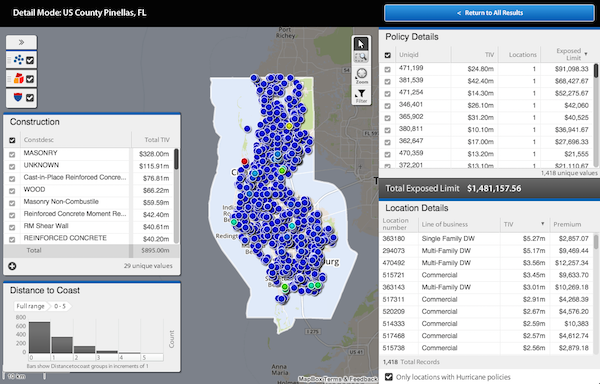 Stay tuned for upcoming models. If you have questions or want to license this app, contact us.
Flood Underwriting App Enhancements
There are a number of enhancements to our Flood Underwriting app. Over the last couple of months, we've been loading hundreds of flood model layers from a variety of vendors, providing our customers with multiple views of risk, all in one place. With all of the additional data, our customers are using both of our flood apps together to gain high level portfolio and model insights to help guide their underwriting decisions and guidelines. It's exciting for us to see these apps in action together!
Here are some of the changes that you'll see in the Underwriting app:
Expanded country support

– we have integrated flood data from 20+ countries, some with multiple models from multiple vendors in each.

Quickly adjust an address during your underwriting analysis instead of having to restart your app session.

View multiple models within a single country. See images above and below showing Katrisk and FEMA scores side-by-side.

Comparison feature

 to view multiple models side-by-side, so you can gain more insight into how your risk is viewed to be impacted.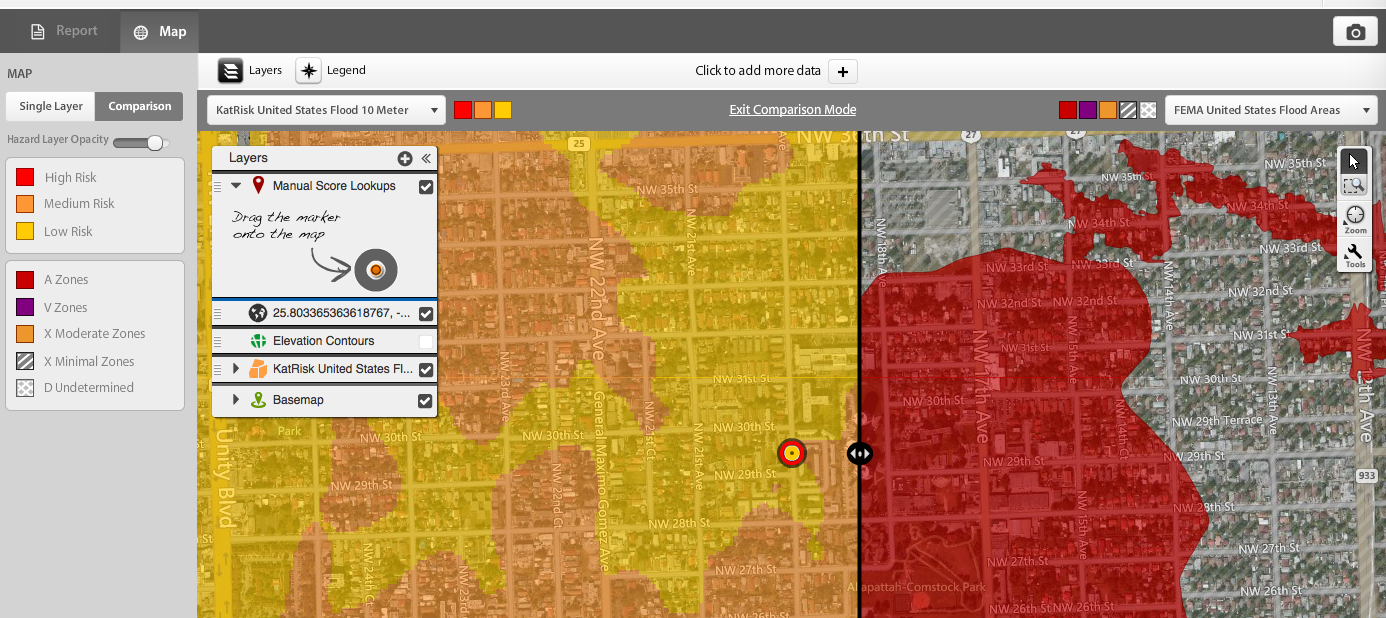 Right click to do an on-demand lookup anywhere on the map.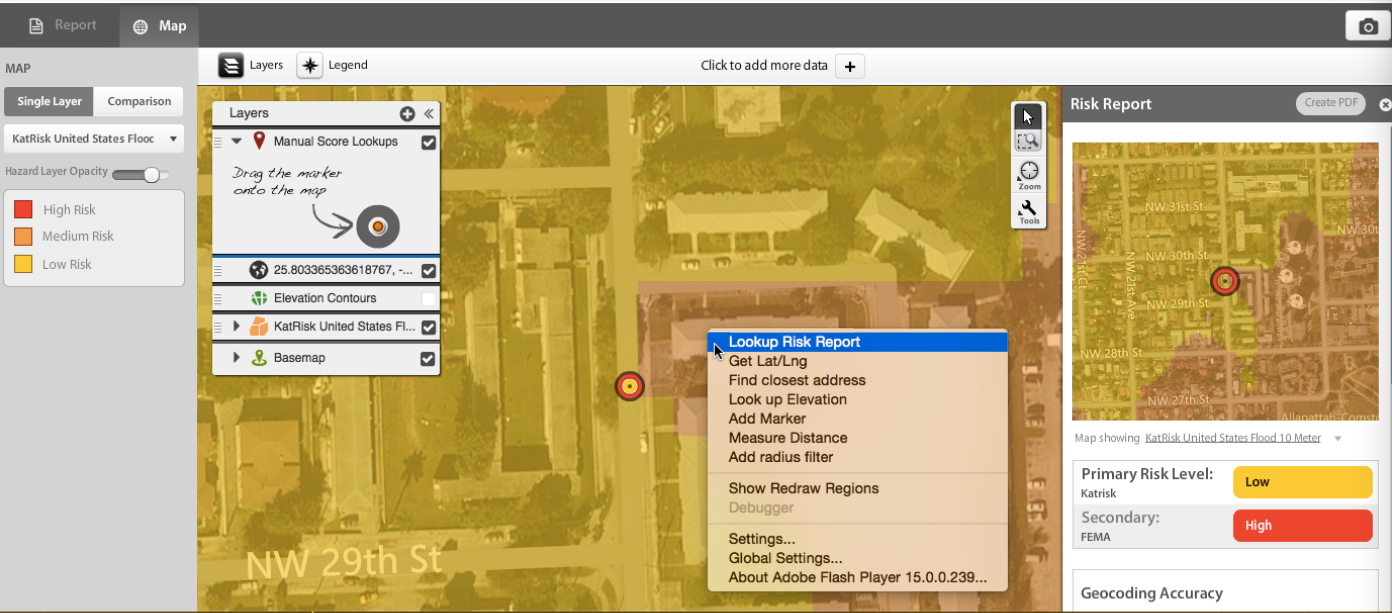 If you have questions or want to license this app, contact us.
Custom Label Formatting
We've heard your feedback and we are excited to introduce a few options for label formatting. Now you can customize the text color, background color, text size, whether or not you want an outline and how thick it should be. You can also move the label around to the optimal placement position on the screen. We hope this helps you get the optimal visualizations for your dashboard and presentations.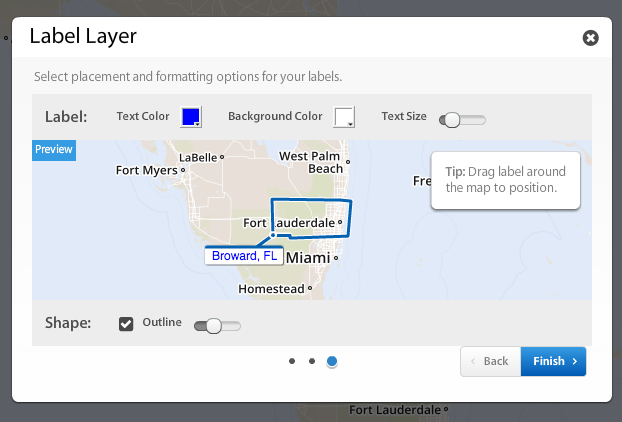 More Point Rendering Visual Options
Continuing on the theme of allowing you more customizations on visualizations, we've added a few enhancements to point rendering. There are 3 new Marker Types to select from when visualizing your points. Also, you can now customize the size of points beyond the 3 standard options that existed before. These two new customizations should help you draw attention to specific dataset points when necessary.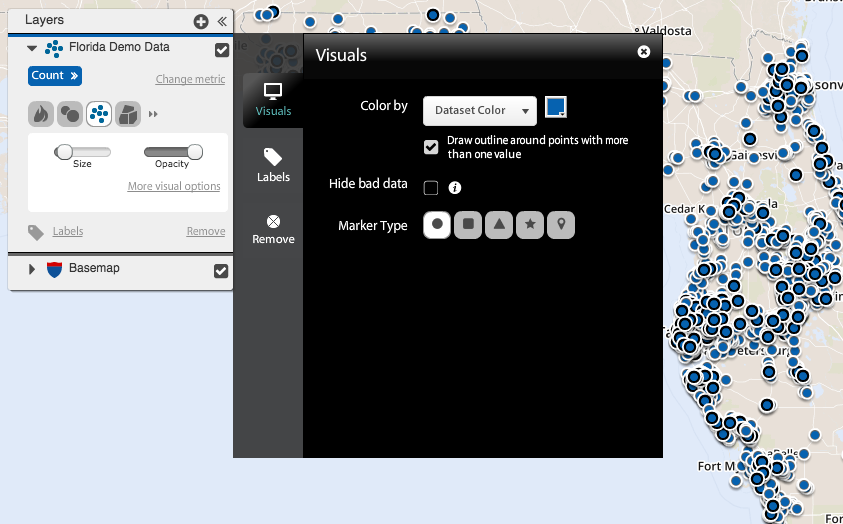 Advanced Calculations Enhancements
We've added a number of enhancements to Advanced Calculations. First, we added type-ahead so you can type an aggregation command with an open parenthesis and we will offer and suggest fields from your dataset.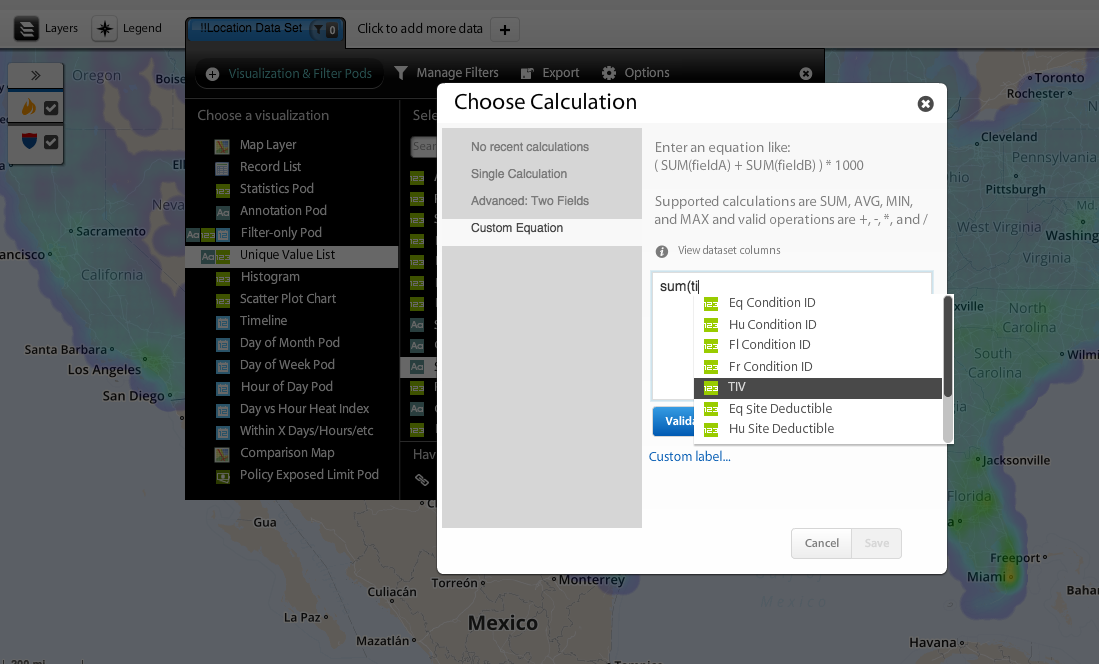 Also, we now remember the last advanced calculations that you created for a dataset so you can build an equation once and then refer back to it if you want to reuse it in other pods.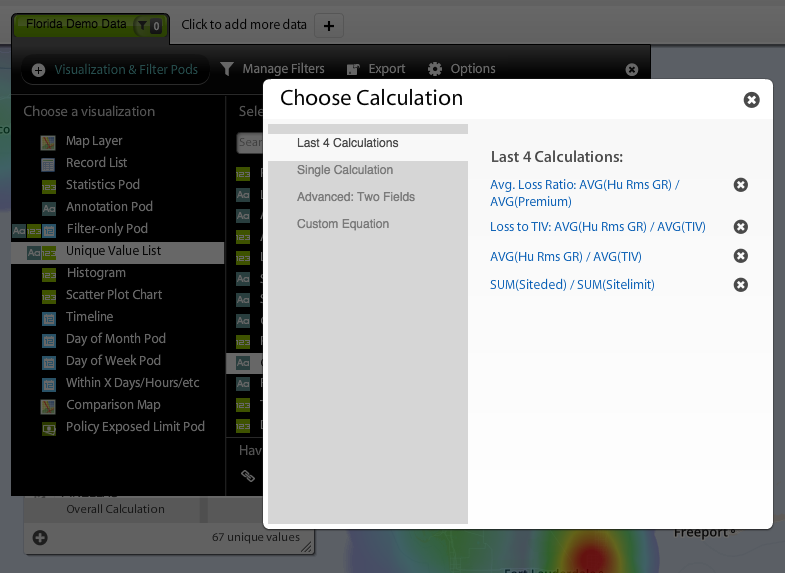 You can also create labels using advanced calculations now.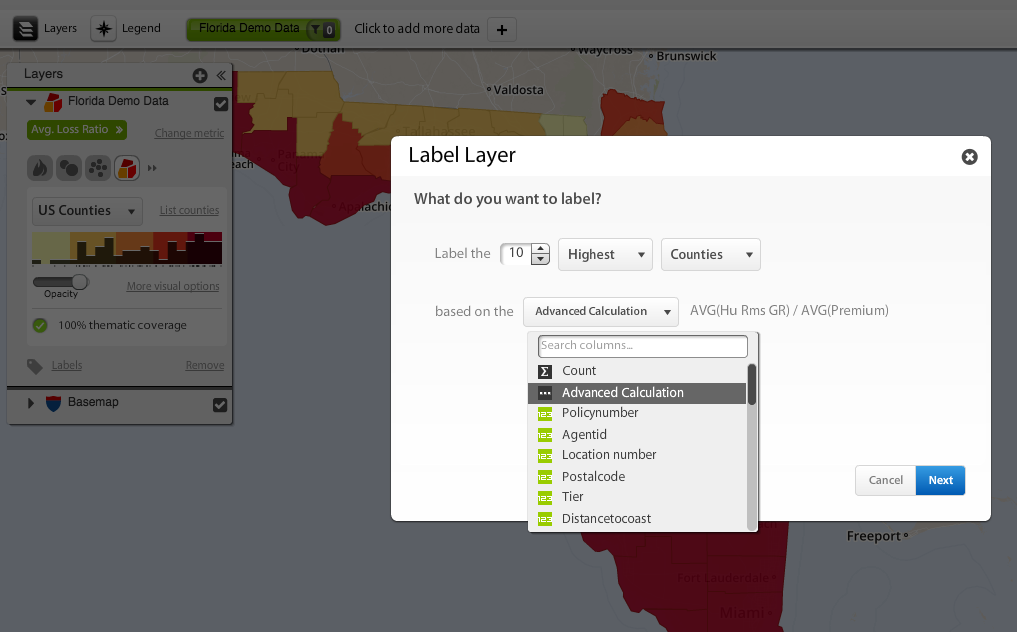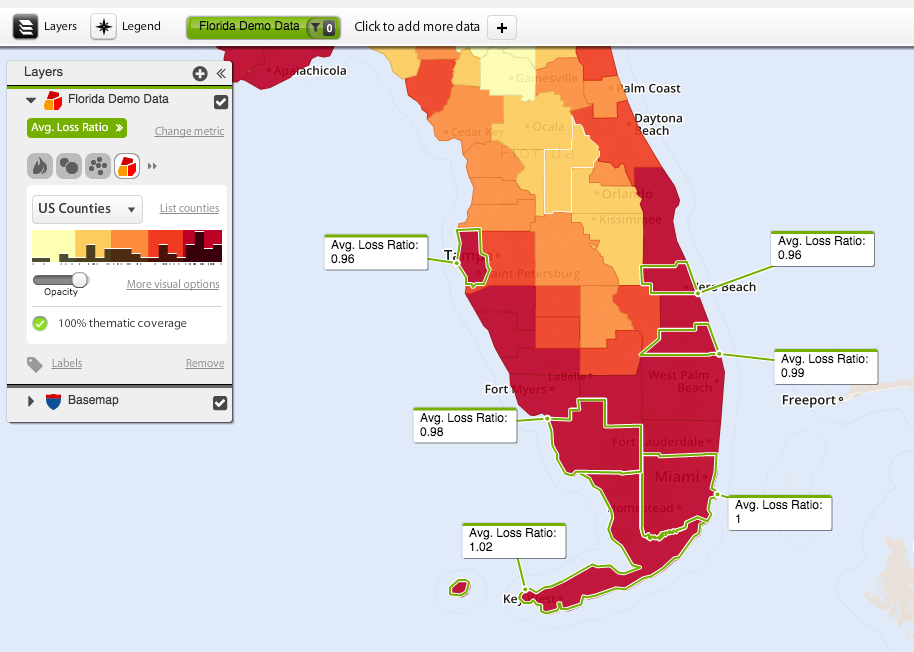 We are continually working to innovate and enhance the SpatialKey products to help you with your business decisions and workflows. Stay tuned for more updates to come throughout 2015.