July snuck up on us! Let's take a moment to capture all of the exciting things we delivered recently. In June, we further invested in building out our flood solution, added new features to the Portfolio Composition app, and integrated better geocoding.
Flood Analyst
This summer revealed a new application, Flood Analyst, to further enhance your ability to manage and understand flood risk.  Building on the momentum of the SpatialKey Flood Underwriting solution in the market, Flood Analyst enables insurers to identify and monitor flood accumulations worldwide to inform risk management strategy.
This app allows you to develop and calibrate a holistic view of risk using a blend of the best science available.  You can quickly compare competitive and complementary expert sources of flood hazard data.  You can focus your analysis on areas of greatest importance (e.g. high hazard, high value concentrations) and areas of greatest potential opportunity (e.g. untapped regional markets).  You can interrogate adverse regional concentrations to understand risk composition and location level drivers of risk to inform underwriting strategy.
The following layers (learn more) are available today in the Flood Analyst app:
US Katrisk Flood (with riverine and surface water flood depths available at the 10- & 30-meter resolutions)
US FEMA Flood Areas and Zones
US NOAA SLOSH (surge heights for CAT 1-5 hurricanes)
USGS Hydrological Units (Region, Sub-Region, Basin and Sub-Basin supported)
US Elevation
NASA Distance to Coast
For more information, check out the product sheet or video (below). If you are interested in licensing the Flood Analyst app, contact us to learn more.
Flood Underwriting
Detailed schedule PDF reports

You can now capture and communicate a single hazard report for an entire location schedule.  This arms you with all the right information to support your underwriting decision or to secure line authorization.  You choose what columns are included in the report, like risk score, address, TIV, construction, river flood depths, etc.
Simply, click Create PDF on the Details tab, choose your columns to report, and save to your desktop or virtual file network.

View and share your PDF.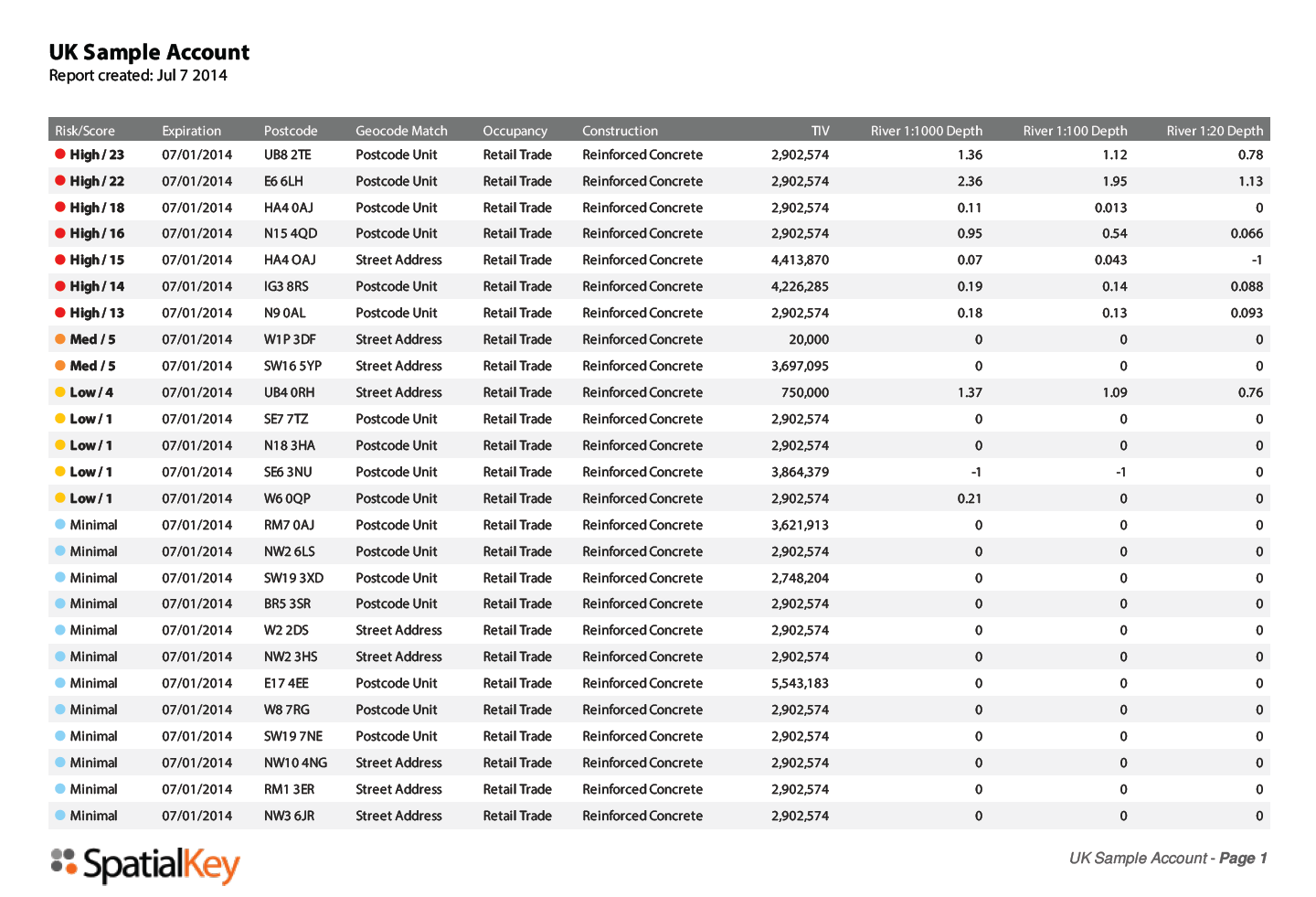 Indonesia, Thailand, Canada and Australia hazard data
Adding to our suite of hazard layers for the Flood Underwriting app, we've integrated Indonesia, Thailand, Canada and Australia flood maps from JBA Risk Management Limited.  Additionally, catchment area accumulation zones are available from JBA for each of these countries to assist you with portfolio analysis.
 Visual Map Slider
We've incorporated a new slider feature in the Flood Underwriting app, allowing you to split the screen real estate to better relate flood hazard to the underlying aerial imagery.

Portfolio Composition app

 
Following its initial release, we've listened to your feedback and made some great enhancements to the Portfolio Composition app!
Easily save your dashboards, so you can return to them at a later time or share them with others in your organization.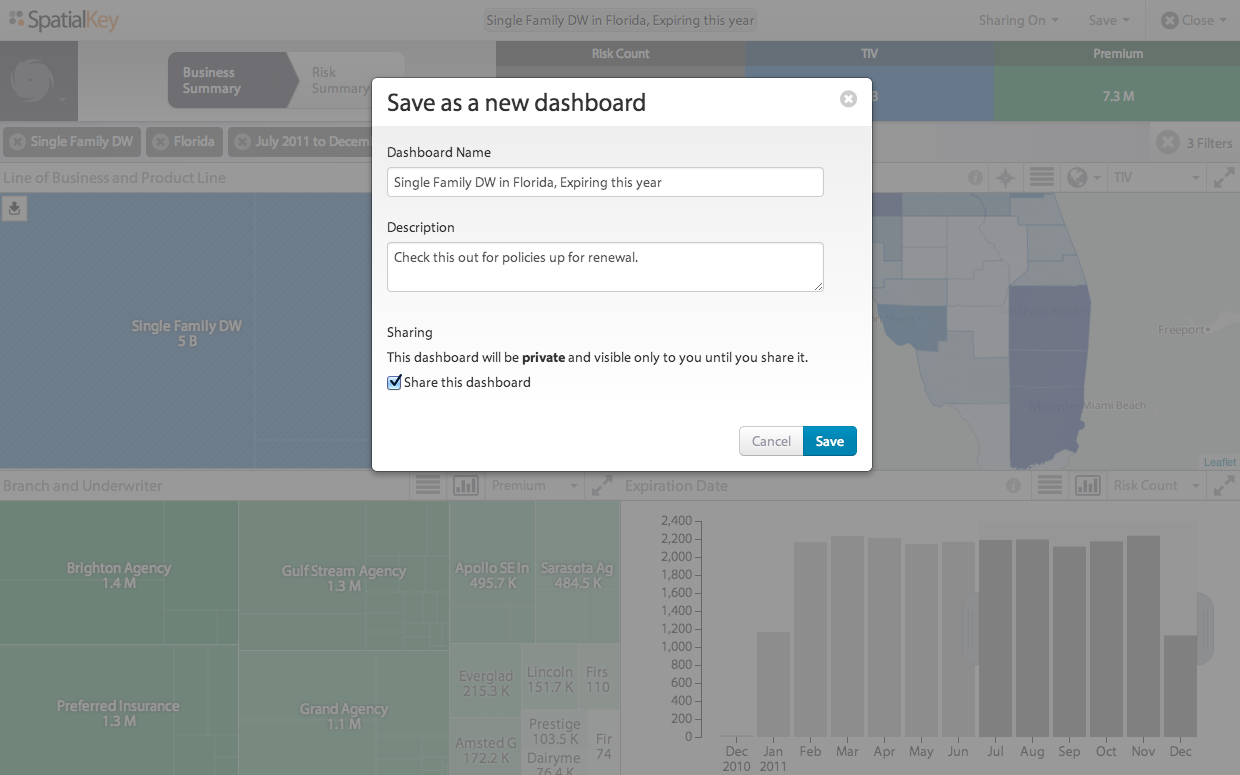 Previously, map rendering was limited to thematic mapping, but now, you can visualize your data as heat or point maps.  This gives you the flexibility to customize your dashboard and explore and communicate your portfolio data as you see fit.
You can view and interact with tabular geographic data instead of just a map visualization .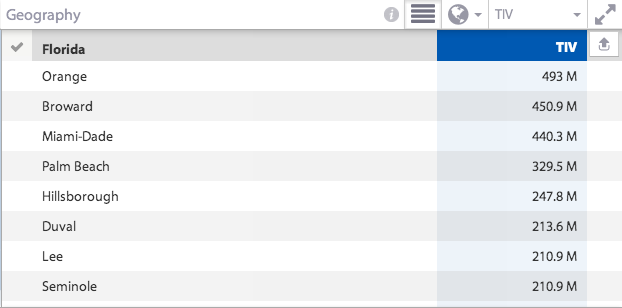 We've added support for reporting currencies as represented in your policy and location data to display currency symbology within the app.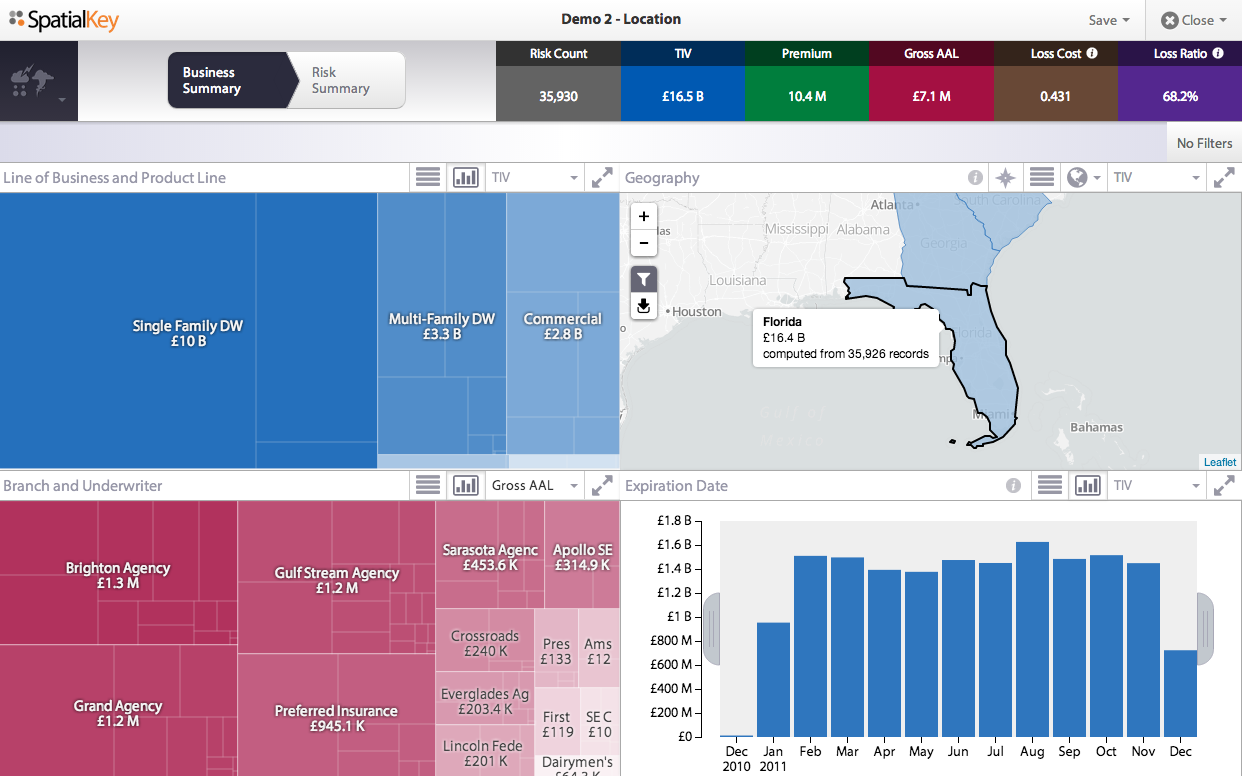 TomTom Geocoding

We've added TomTom's Global Geocoder to our supported 3rd party geocoders. TomTom offers the flexible terms you need to visualize geocodes on any basemap and export results from SpatialKey. Geocoding is supported in over 100 countries, with over 60 supporting house number resolution (see table below).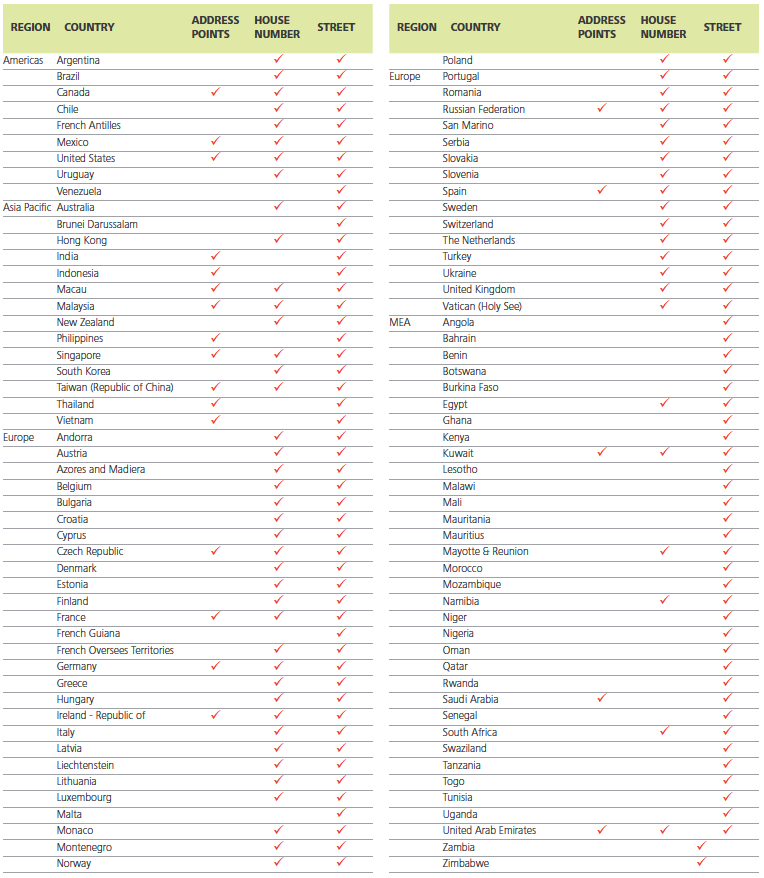 For more information, check out this article. If you are interested in licensing TomTom geocoding within SpatialKey, contact us.
That's it for the June release, hope you enjoy these new features!