Extending our commitment to you, SpatialKey has created new analytic capability to advance your policy underwriting processes.  In this release, we are introducing the Flood Underwriting application, designed to assist you with the quantification and qualification of new residential risks in France and the UK with insights into the impact of new risks to your existing book of business.  Additionally, you will also enjoy some usability enhancements for several SpatialKey features.
What's New at a Glance
New applications
Feature enhancements
Flood Underwriting
SpatialKey now offers solutions for policy underwriting!  Our new Flood Underwriting application is the first of many innovations targeted at empowering underwriters with actionable intelligence at the point of sale.  With seamless access to hazard maps from JBA Risk Management Limited, underwriters can quickly qualify and quote new business with a more complete understanding of flood risk through scorecards, visualizations, and analytics.
Flood Underwriting enables risk evaluation for a single location or a schedule of locations and facilitates understanding of correlations with an existing book of business or claims history.
Leverage intuitive dashboards to profile the distribution and composition of flood risk, bringing focus to the risk selection process.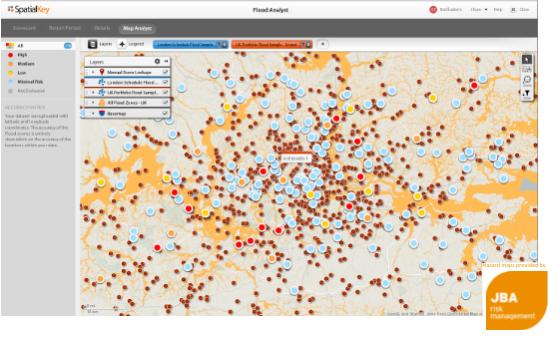 Access an itemized listing of locations and associated risk scores and visualize those locations relative to hazard and existing portfolio or claims data.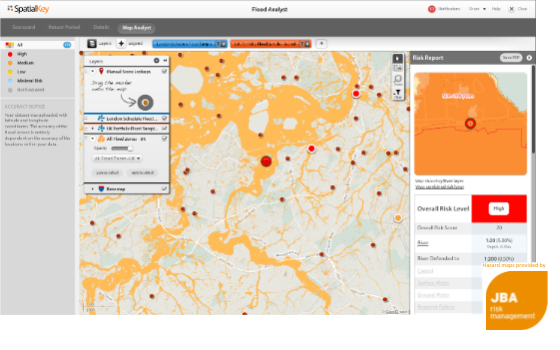 Drill-in to view individual location details, including hazard and its contribution to portfolio accumulations.  Take a closer look at a prospective risk by leveraging satellite imagery.  Simply, drag and drop a marker to enhance positional accuracy or to perform an instant risk assessment.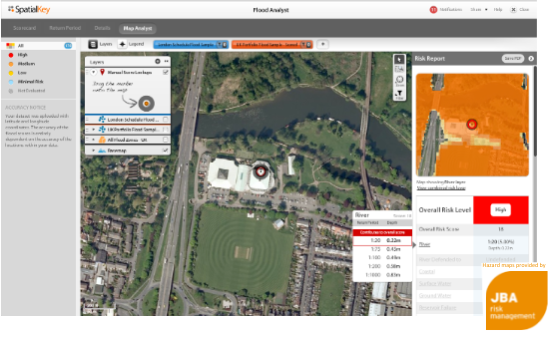 If you want to retain your analysis within your policy file, want to collaborate with other underwriters or analyst teams, or need to submit to management for approvals, simply save the dashboards or individual risk reports as PDFs.
With SpatialKey's unmatched ease-of-use and intuitive visualizations, insurers can accelerate underwriting decisions, reduce cost of claims, and maximize underwriting profit through advanced risk selection.
Policy Exposed Limit
The Policy Exposed Limit feature has been a great success since it's release in September!  Our clients have been able to identify Exposed Limit in aggregate, based on risk zones, and by policy for a specific peril.  When Hurricane Sandy was approaching the east coast of the United States, clients were able to quickly leverage a more accurate representation of potential exposure. Read our Hurricane Sandy blog post for additional details.
The Exposed Limit calculation contemplates the following terms and conditions for single and multi-peril policies:
Policy Blanket Limit
Policy Blanket, Minimum and Maximum Deductibles
Policy Layer/Line
Policy Attachment Point
Site Limits and Deductibles
In this release, the Exposed Limit calculation has been enhanced to include handing of terms and conditions for policies and sites that are provided as percentages or have values equal to zero.  When a percent or zero is provided for policy or site terms, a dollar value will be calculated based on other known information about the policy and site. This is more aligned with how policy data is captured today and means less manual manipulation of the policy and location files prior to import. Stay tuned for continued enhancement in policy structures supported and refinements to application workflows.
Zoom via Scroll Wheel on Mouse
Based on your feedback, we have enhanced our zoom feature in all applications.  You can now zoom using the scroll wheel on your mouse. As you move the scroll wheel, red indicators will appear next to your mouse arrow, indicating that you are zooming in or out.
Launch Analysis Results with Notifications
Some of the more detailed analyses, such as Earthquake app analyses can take some time to complete.  We've added notifications to SpatialKey that will allow you to launch the results of these analyses in a single click.  Now you can continue working on other tasks in SpatialKey while your analyses are running, receive an alert of it's completion, and view your analysis results directly via the notification.
SpatialKey Geocoder
We've been busy over the last couple of month and are proud to announce that SpatialKey now offers its own custom-built geocoding solution!  Our geocoder is based on U.S. Census TIGER data and since TIGER data is public, we have more flexibility in how SpatialKey can use geocodes and view results on a map.  Because this is a custom SpatialKey solution, our clients can help influence its evolution over time.  By bringing our geocoding solution in-house, we can be proactive about iterative improvements to geocoding quality as we gather usage metrics and reach out to our customers to gather feedback.
Basemap Changes
A couple of months ago, there was a change in the contract terms with our geocoding provider, MapQuest.  These changes included provisions for restricting the use of geocodes.  You will only be impacted by this change if you geocode within SpatialKey.  You can now only visualize those geocoded locations using the MapQuest basemap – you will no longer be able to visualize using OpenStreet Maps.  If you geocoded your data outside of SpatialKey and import the latitude and longitude coordinates or if you use the new SpatialKey geocoder, you are free to use MapQuest or Open Street Map basemaps for your dataset.

Image 1: showing basemap option for a dataset geocoded with MapQuest, via SpatialKey
Pre-defining Header Field Types
Column data types can be defined prior to upload to save the step of defining types on this screen.  Simply enter "|[Data Type]|[Subtype]" after the header names in your CSV file and SpatialKey will automatically assign the provided data types during Upload.
Data Type: Number, Date, String
Subtype for "Number" Data Type: Integer, Decimal, Currency, ID, Percent
Subtype for "Date" Data Type: Year, Month, Day, Hour, Minute, Second
For Example, to get the PolicyId column to be an ID number, change the header in the CSV file from "PolicyId" to "PolicyId|Number|ID".
Click for more details on pre-defining header field types.
We hope you are as excited to use these features as we are to bring them to you. Our best innovation comes from our great users, so please keep the great feedback coming. Please drop us a line or send us a tweet with your feedback.