We've been thoroughly enjoying building new capability for our clients this summer and are excited to roll out some new updates. This month we're bringing you another model within our Accumulations app, data enhancements to our Hazard Analyst app and increased ease of integration with our Embedded Client API. We've also improved dataset administration, so SpatialKey is even easier to use.
Click any link below to learn more about what we've been working on and stay tuned for more to come in the fall.
Gain a deeper understanding of accumulations with our Target model
We're excited to announce our final model release in Accumulations for the year. We've moved from having one model offering to five unique models that provide you with an advanced understanding of exposure concentrations. The Target model helps you:
Identify peak accumulations of exposure within your portfolio relative to points of interest. Load any set of location references to analyze concentrations against, like a dataset of high-interest properties or points of interest.

Look at a terror target dataset (locations identified as having terrorism risk such as skyscrapers, churches, train stations, etc.)
Understand event history (e.g. terror target history, tornado touchdowns, claims experience points, etc.)

Evaluate accumulations against your own portfolio locations – run an accumulations analysis by drawing a ring around each point in your own dataset
Understand the composition of each accumulation by any attribute of your data and understand which policies and locations contribute to it
Simply configure your scenario (radius, thresholds, and damage factors), select a target dataset, and select a geographic extent to focus your analysis.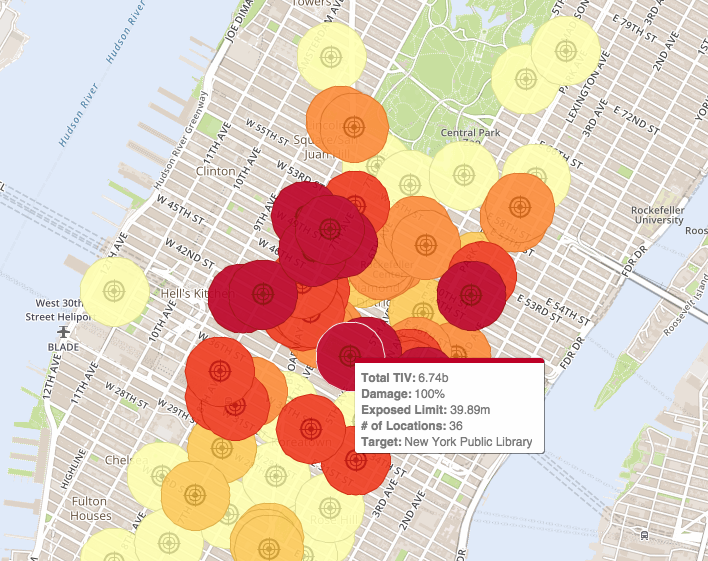 Image above is showing 250m accumulations where Exposed Limit is greater than $10 million.
Use the Accumulations app to filter down your analysis for a deeper understanding of locations that are driving your peak accumulations.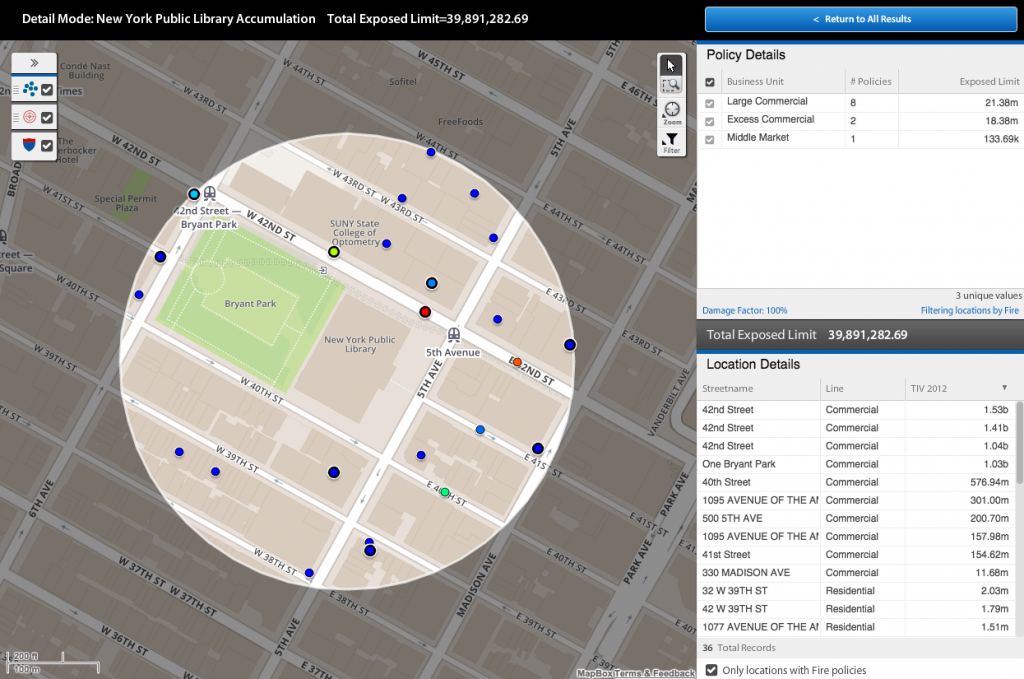 The new Target model, along with our other models, available within the Accumulations app, gives you the option to run your analysis based on specific metrics in your own dataset, on Exposed Limits, or on a specific area of interest within custom geographic extents.

Share and understand datasets with greater ease
We're always looking for ways to make SpatialKey datasets and dashboards easier to manage and as transparent as possible, and our work this summer is going to provide a more positive experience.
Dataset sharing settings visible at a glance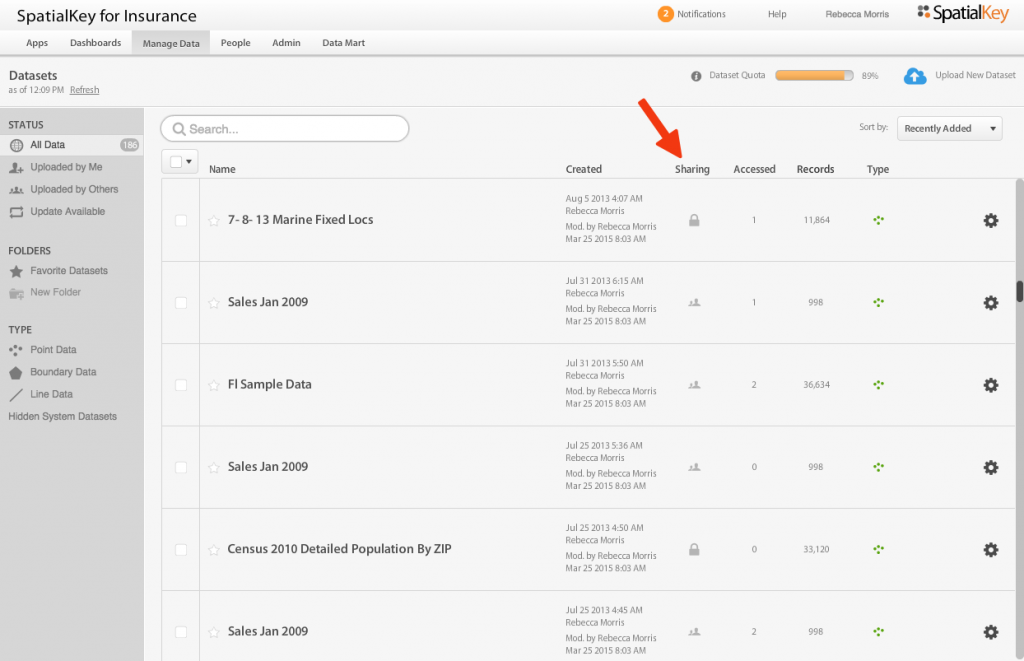 Dataset sharing enhancements
We've made a number of enhancements to the dataset sharing experience. First, we've moved all things related to dataset sharing and permissions to the "Share with Users" feature. This includes information about whether the dataset is private or shared, and the option to set whether users can export the dataset as a CSV. We've also adjusted the design to make it easier to add new users and assign different permission levels to each individual or group.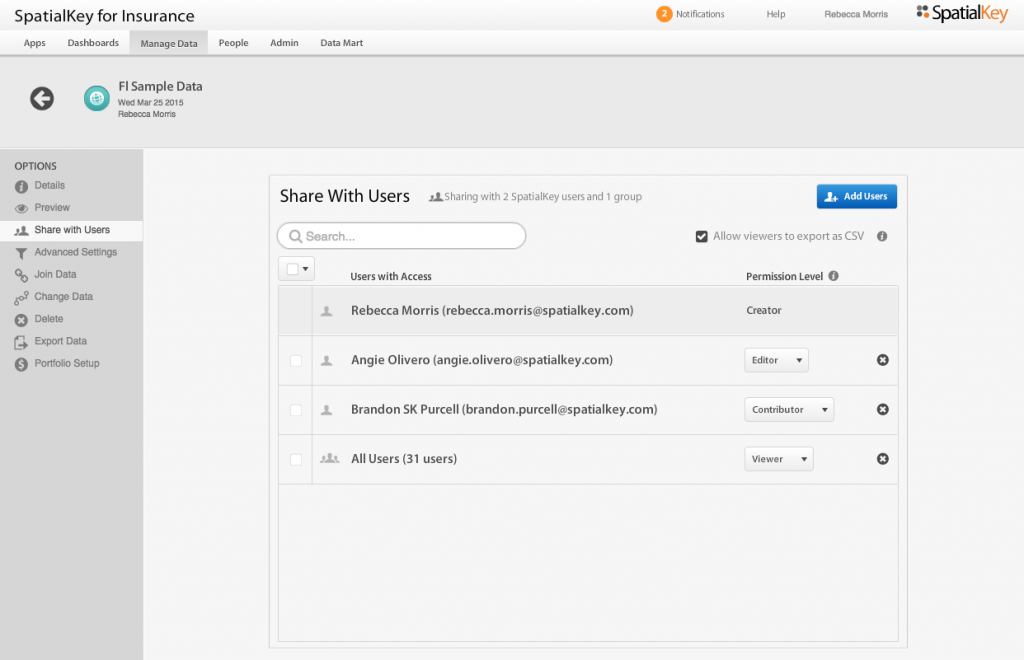 Permission level renaming
Permission levels have new names to help make it easier to understand the differences.
Owner is now Creator/Editor
Manager is now Contributor
Viewer is unchanged
Click here for more information on what each permission level means – and remember, the abilities granted to each permission level haven't changed, just the names.
Transparency into dashboards a dataset is used in
Now, all users can see who have created dashboards associated with a given dataset, but access to unshared dashboards is restricted and the visibility into the dashboard names is still hidden to maintain security. This transparency is critical in knowing who will be impacted if/when changes are made, including dataset deletion.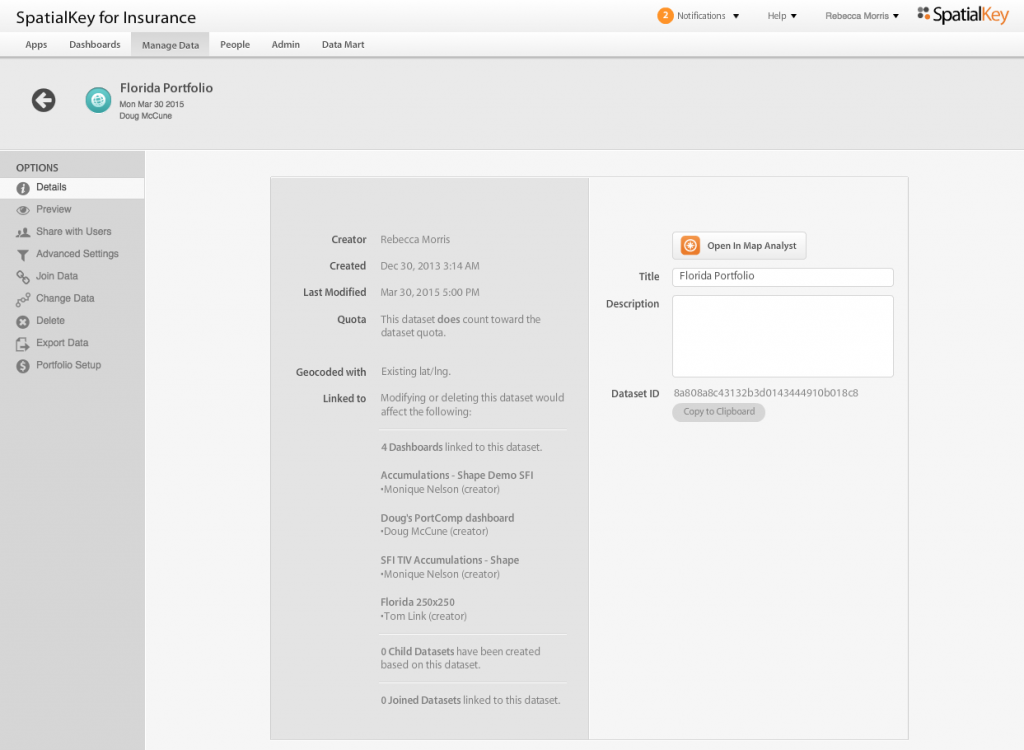 Additionally, Super Admins and Data Admins can see a list of dashboards associated with a dataset (along with the dashboard owners).

Access KatRisk and British Geological Survey data for Underwriting and Exposure Management
We're committed to expanding the commercial data available in SpatialKey.  We are excited to announce that UK subsidence data from the British Geological Survey (BGS) and US hurricane data from KatRisk are now fully integrated in our Underwriting and Hazard Analyst apps.
For more information about data available in SpatialKey, click here or contact us.

Create Underwriting dashboards using Embedded Client API
Integrations via our Embedded Client API, enable underwriters to launch SpatialKey Underwriting directly from their underwriting systems.  They can  leverage underwriting dashboards for single location lookups (address to be geocoded or latitude/longitude coordinates) or for processing schedules. Rather than launching and logging into SpatialKey, underwriters realize time savings and obtain the right information, right now.
For more information, click here.
Please contact sales@spatialkey.com if you'd like to learn more about these apps and licensing options.