We have some exciting features to share with you… there's one in particular that we think you'll be thrilled about!
Major Highlights:
And a few minor features thrown in for good measure:
Advanced Calculations
We couldn't be more excited about this feature! In response to your feedback and feature requests, you now have flexibility to create custom calculations in your dashboard by combining different metrics in your data. Advanced calculations can be added for the following visualization pods:
Map layer (heat, graduated circles, thematic, bivariate)
Statistics pod
Unique value list
Histogram
Timeline and other date pods
To access an advanced calculation, simply select the "Advanced Calculation" option when selecting a metric. See example below for the Statistics pod.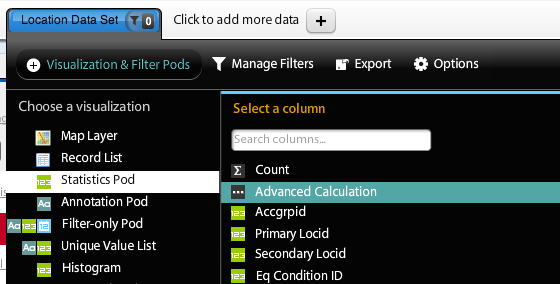 Types of Advanced Calculations
There is no longer a need to calculate ratios, summations, differences, etc. outside of SpatialKey. You can now create your own equation from any metric fields in your dataset. Optionally add a custom label for your calculation as well.
Use our wizard for some simple calculations between two fields: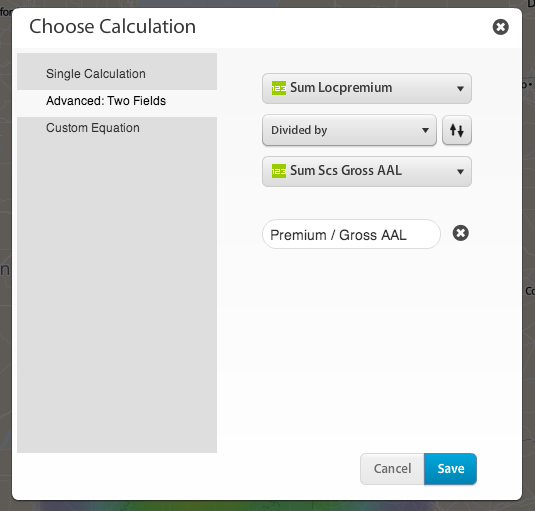 Or type out your own equation, similar to Excel: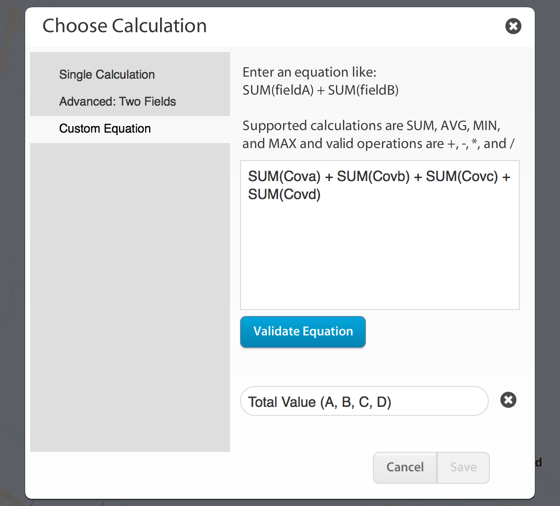 Advanced calculations work in most of the visualization pods, and can also be a powerful way to visualize your data on the map.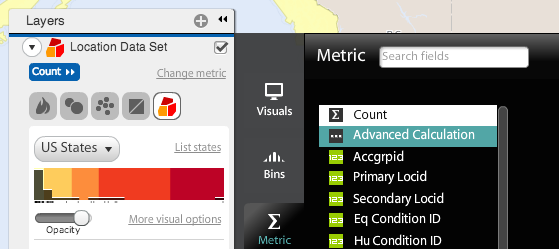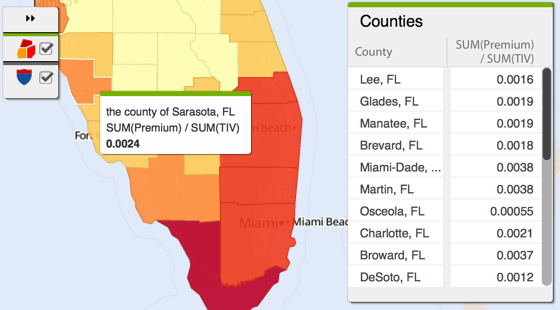 We hope you enjoy this powerful feature and welcome any feedback as you start to try this out with your data.
Improved Dashboard Sharing
We've added the finishing touches on the dashboard sharing enhancement that was introduced in March. On top of the added visibility, you can now take action! You can now "view/edit permissions" for the datasets used in a selected dashboard. Remember that dashboard sharing is driven by dataset permissions.

If I have proper permissions (manager or owner) on the datasets, I can grant permission for others users myself. If I'm only a viewer on the datasets, I can request that the dataset owners grant access for the requested user.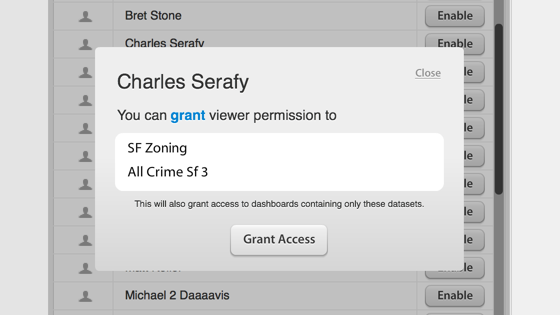 If someone else needs to grant access you can submit a request. The dataset owner gets an email and a notification within SpatialKey so they can quickly grant access.

Minor Updates
Histogram and Timeline Range Labels
We've improved selection in the Histogram and Timeline pods by adding a label showing exactly what ranges you're selecting as you interact with the pod.

Edit column info
Continuing in our effort to better support precise representations of your data, we have added the ability to adjust the date precision post-import. This will help SpatialKey display your data in the most appropriate format in any SpatialKey dashboard, helping you clearly communicate with others.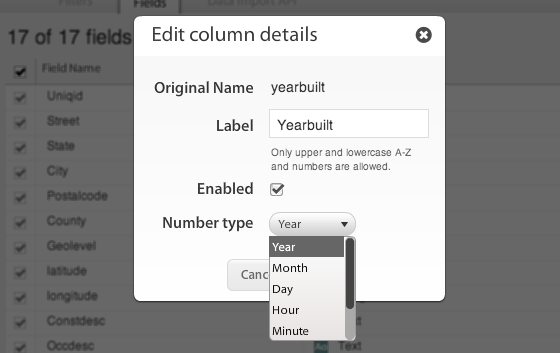 View dataset and geocoding quotas
We often get inquiries around dataset limits being reached before expected. This is due to the fact that not all data is shared and visible to you. We've added a bit of transparency by including dataset quota information at the top of the "manage data" tab.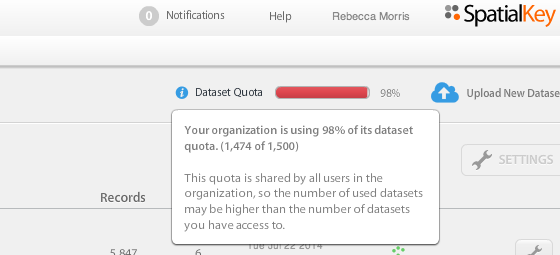 We've also added geocoding quota information to the "Admin" tab for quick access for admin users. This information was previously only available during an import job using the Data Upload Wizard. If you are a site admin you can view your current geocoding credit balance by going to the Admin tab and selecting "Quota and Limits".
Manually importing geocoding resolution
You've always been able to use your own latitude and longitude coordinates in SpatialKey, but we never inquired to the geocoding resolution of those coordinates. Now, when you use latitude and longitude coordinates for importing your data, you can specify a column that contains geocoding resolution. This is becoming more important as our apps are starting to be intelligent around the geocoding resolution of points, e.g. Accumulations app and Flood Underwriting apps can exclude poorly geocoded locations.

Geocoding resolutions that we understand are listed here, so be sure to translate your codes before importing.
That'll do it for this release. We hope you enjoy these features!