SpatialKey European Windstorm Event Response v1.0
An average of six windstorms occur each year between November and March, resulting in wind and flood damage.  Insurance and Reinsurance risk analysts and portfolio managers can now support European Windstorm event analysis and response activities with SpatialKey's release of European Windstorm Event Response v1.0,  just in time for the 2016-2017 windstorm season.
This app will help you determine your portfolio's risk and exposure using peak wind gust hazard data. Take advantage of SpatialKey's extensive dashboard features to create interactive analyses and visualizations, extending and enhancing the value of existing systems and processes.
The following new European windstorm features are available in this release:
Reliable, current European windstorm event data

:  Peak wind gust hazard data available from EuroTempest is refreshed every 12 hours.

(Licensing applies. Copyright © 2016 EuroTempest Ltd.

)

Select relevant windstorm events

:  Browse and select windstorm forecasts or past events based on name, date, peak wind gust, or storm status.

Select datasets

:  Search datasets by name and select a portfolio for display with the selected windstorm event based on name, recordcount, creation time and date, or file update time and date

Dataset search

:  Use search functionality to locate portfolio datasets.

Analysis

:  Conduct analyses, using selected metrics from a target portfolio dataset.

Windstorm event footprint

:  View a windstorm event's footprint on a map – represented with thematic shading, based on peak wind gust values.

Impacted locations

: View event impact details including portfolio location counts by peak wind gust bands.

Portfolio exposure

:  View event impact details including portfolio TIV when available. Policy Exposed Limit (PEL) is also available through the PEL pod.

Filtering

: Filter portfolio locations by peak wind gust bands.  

Export

:  Export record lists by selected peak wind gust bands.
View and select events from a calendar: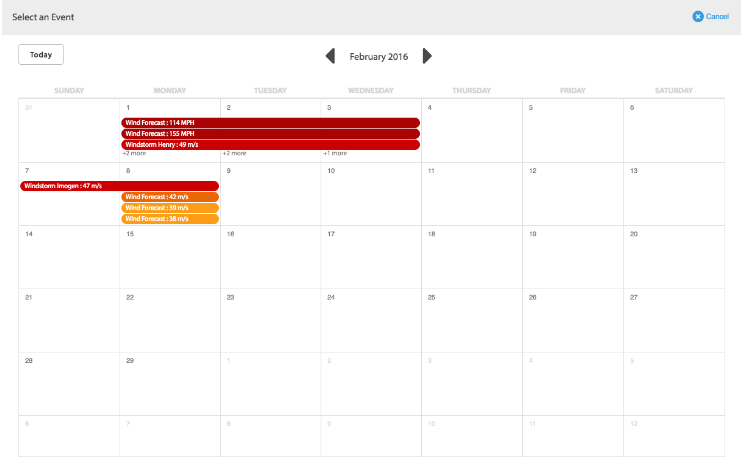 View the windstorm event footprint and impact in the dashboard: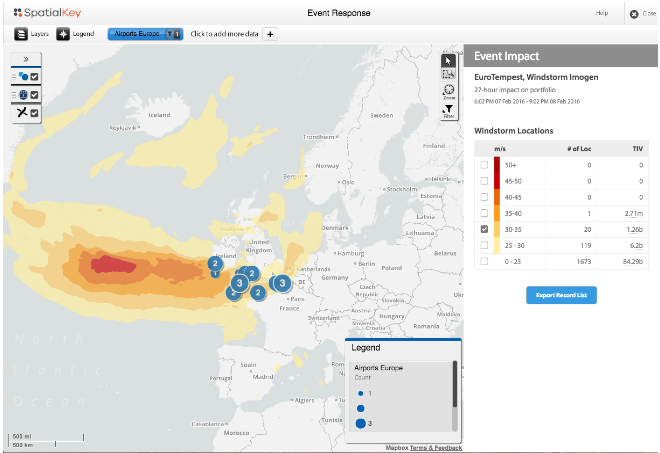 Standard SpatialKey dashboard features include:
Control bar:

Add and manage datasets, hide/show the layers pod or the the legend.

Dataset configuration panel:

Manage filters, export and remove data, or add pods to your dashboard.

Map layer manager

:  Control layering and display of datasets, adjust point location visualizations, change to a thematic map to render data by geographic shapes, manage zoom level, and control basemap used.

Map controls

:  Interact with the map using select, zoom, pan, and use filters by area in view.

Pod manager

: View list of minimized or maximized pods in the dashboard, including the PEL pod.
Standard SpatialKey tabs toolbar features compatible with this release include:
Manage data

:  Import datasets, join, and manage existing ones.

Apps

:  Launch other SpatialKey apps.

DataMart

:  View and select datasets in the SpatialKey DataMart (must be enabled for your organization).

People

: Admin users can add and manage users and groups.

Admin

: Admin users can review quotas and limits, manage datasets, and review deleted datasets.

Dashboards

: View and manage dashboards across all SpatialKey applications.

Help

:  Review the support site and view frequently asked questions.
Feature benefits
:
Robust windstorm data

– EuroTempest data is sourced from the European SYNOP network and is run by the national meteorological agencies under the umbrella of the World Meteorological Organisation.

Frequent windstorm hazard data updates

– European Windstorm EuroTempest data is refreshed every 12 hours.

Interactive analysis and reports

– Provide analysts the ability to work directly with information imported from other business systems as windstorm events are forecast.  

Risk exposure insight

– Understand where the highest risk zones are based on past or active windstorm events.

Financial modeling

– Obtain a summation of the portfolio by peak wind gust, providing actionable insights on windstorm forecasts and events throughout Europe. Apply policy terms to calculate the policy exposed limit.

Address fraud leakage

:  Ability to determine which portfolio locations fall outside of damaging windstorm areas
Underlying technologies include
:
The SpatialKey client is built using HTML5, Javascript, and Adobe Flash – affording end users a rich, visual, web-based application to support their daily, business critical decision-making. As with other SpatialKey On-Demand applications, European Windstorm is built on top of the industry-leading Amazon Web Services (AWS) platform.
Visit SpatialKey Support page for answers to Frequently Asked Questions and more details about SpatialKey applications.
Minor releases & bug fixes:
JBA-GB, NIE fix (UW 2.0):

Fixed an issue where "River defended to" wasn't being reported correctly.

Accumulations duplication fix:

Fixes a bug in accumulations that would cause duplicate results for ground up loss accumulations in certain circumstances.

Log-in performance fixes:

A bug in the fix related to credit deduction for paid geocoders required an additional fix, upping the version to 4.4.18.

MAINT Client Release 12.5.0

:

Wildfires that span months are not properly filtered when months selected in UI

RTE on hazard analyst comparison mode

Geocoding Accuracy column has Text icon, but type says 'Number / Integer'

AMF spams like hell if a server restarts

Duplicate pods appear when going to deep linked dashboard on org with lots of users

Comparison mode fix (UW 2.0):

Fixed an edge case where comparison mode was not working and another where the model selection was defaulting to a blank selection.

UW 2.0 Fix:

This release includes 4 bugs found during regression or deploy of UW 2.0:

Willis Re NZ returns "NaN" for the at risk 200yrs

Sidebar counts not working properly

Country selection not showing when switching to map when there's only one model available

UI freezes when you enable comparison view and map is zoomed out