SpatialKey's flood solutions help insurers to qualify and quote new business through enhanced risk selection and to monitor and mitigate flood accumulations worldwide. With a variety of model vendors and risk data, the Flood Analyst and Flood Underwriting apps allow you to develop and act on your own strategy using a blend of the best science available and to evaluate risk holistically by augmenting views with complementary data sources. This article will walk you through the various sources of data available in SpatialKey solutions. If you are interested in integration with your own proprietary data sources or another commercial vendor, let us know.
JBA Flood Maps
JBA is a leader in producing natural hazard maps, and offers local as well as global flood maps, available at different resolutions to suit any purpose. From their 30m Global Flood Map (Level 1) to their 5m, high resolution Comprehensive Flood Map of the UK and Ireland (Level 3), they create maps to suit different purposes and requirements.
Their Global Flood Map (GFM) covers every major catchment in 168 countries. As part of our dedication to leading our industry, we have mapped river flood for every major catchment in the world. The most sophisticated modelling techniques have been used for the GFM, based on the highest-resolution global elevation data available. The GFM is a Level 1 map, and its consistency simplifies the assessment of exposure in multinational portfolios.
They have modeled 288,500km of rivers in the Europe Flood Map (EFM). The EFM provides consistent mapping of major rivers across the following European countries: Austria, Belgium, the Czech Republic, France, Germany, Hungary, Italy, Liechtenstein, Luxembourg, Poland, Slovakia, Slovenia and Switzerland to enable re/insurers to easily compare exposure between any or all of these countries. These maps provide the underlying information for JBA Risk Management's Europe probabilistic flood model, which enables the calculation of return period losses across Europe. At up to 10m resolution these Level 2 maps are suitable for use in both underwriting and accumulation modeling. The maps include defended areas where possible.
The Comprehensive Flood Model (CFM) is the UK's leading tool for flood insurance underwriters, providing high-resolution hazard maps of multiple flood types. Now in its sixth year of use, the CFM benefits from several years of updates, feedback and validation against flood claims. Modelled in JFlow (JBA Risk Management's own highly acclaimed 2D hydraulic model that currently has some 300,000 stream processors in the grid), the hazard maps form part of our Great Britain probabilistic model, and can be used to derive other datasets such as annual damage ratio data. At 5m resolution the CFM is a Level 3 map which covers six flood perils throughout Great Britain (river, coastal, surface water, groundwater, canal failure and dam break) and three in Ireland (river, coastal and surface water). It remains an invaluable tool for gauging where flooding is likely to occur, right down to individual property level information.
Click here for more information from JBA.
SpatialKey has integrated JBA hazard maps for 15+ countries across GFM, EFM and CFM models and continues to integrate more as client demand arises.
KatRisk
KatRisk LLC is a catastrophe modeling company providing comprehensive and cost effective catastrophe risk models with an emphasis on flood along with tropical cyclone related wind, rainfall and storm surge. Their models currently cover the United States and fifteen countries in Asia with additional regions in development leading to worldwide coverage. The KatRisk modeling approach, utilizing high performance supercomputer capabilities, is both detailed and comprehensive, covering the entire geographic area of each region modeled. For more information, visit www.katrisk.com.
Flood
SpatialKey has integrated KatRisk's high resolution (10m, 30m, and 90m resolution) riverine and surface water flood depth data across a variety of countries. For more information, click here.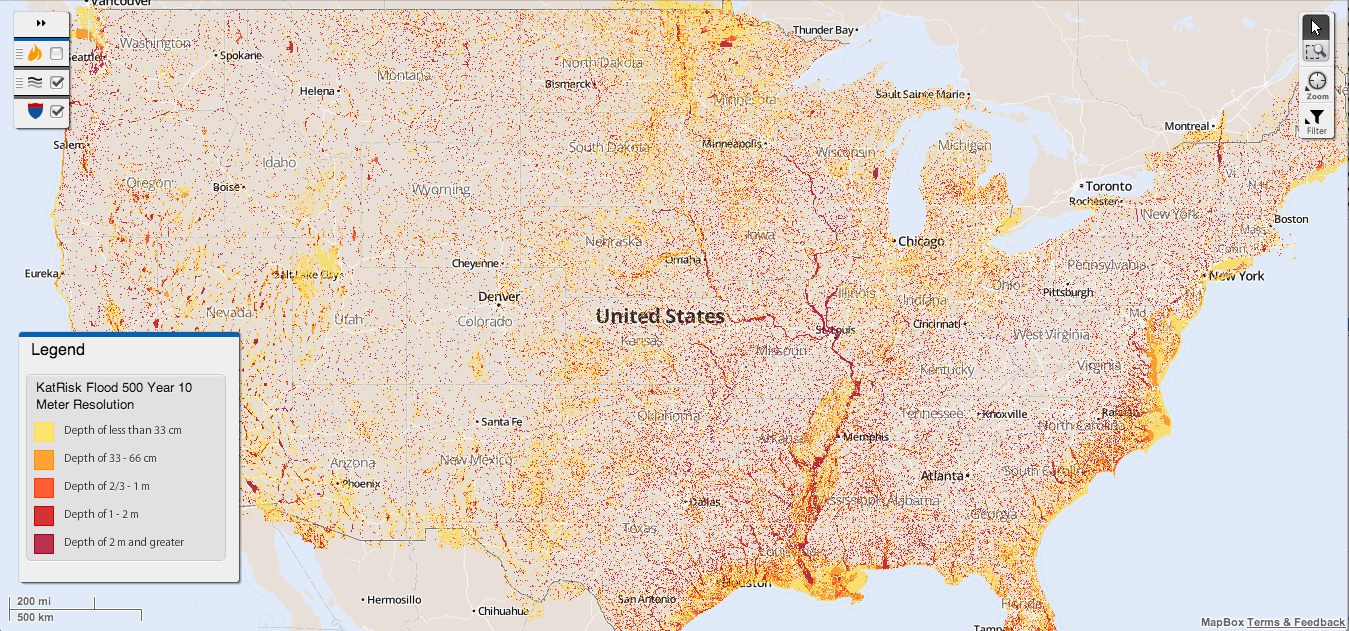 Wind
SpatialKey has integrated KatRisk's North Atlantic Basin Hurricane model covering the US and Caribbean Islands to provide users with wind risk data at multiple return periods. Peak gust windspeeds in miles per hour are provided on a 0.01 degree grid and include roughness impacts. The data allows users to understand wind risk at a given return period considering all categories of potential hurricanes. Building code design maps also utilize peak gust windspeeds but are based on uniform open terrain exposure conditions, local roughness conditions are considered separately in the design process.
British Geological Survey
The British Geological Survey is a world-leading geological survey. It focuses on public-good science for government, and research to understand earth and environmental processes.This data is derived from the GeoSure ground stability data (learn more). SpeatialKey has incorporated GeoSure, which consists of six data layers (Shrink Swell, Landslides, Soluble Rocks, Compressible Ground, Collapsible Deposits, Running Sand) in Geographical Information System (GIS) format that identify areas of potential hazard in Great Britain. Each layer has national coverage. These data have been produced by geologists, geotechnical specialists and information developers at the British Geological Survey and are presented as separate GIS data layers relating to the cause of the geohazard.
FEMA Flood Zones
FEMA's mission is to support U.S. citizens and first responders to ensure that, as a nation, we work together to build, sustain, and improve our capability to prepare for, protect against, respond to, recover from, and mitigate all hazards.
FEMA flood zones are geographic areas that FEMA has defined according to varying levels of flood risk and type of flooding. SpatialKey has integrated FEMA Risk Areas, FEMA Zones, and FEMA Sub-Zones. For more information, click here.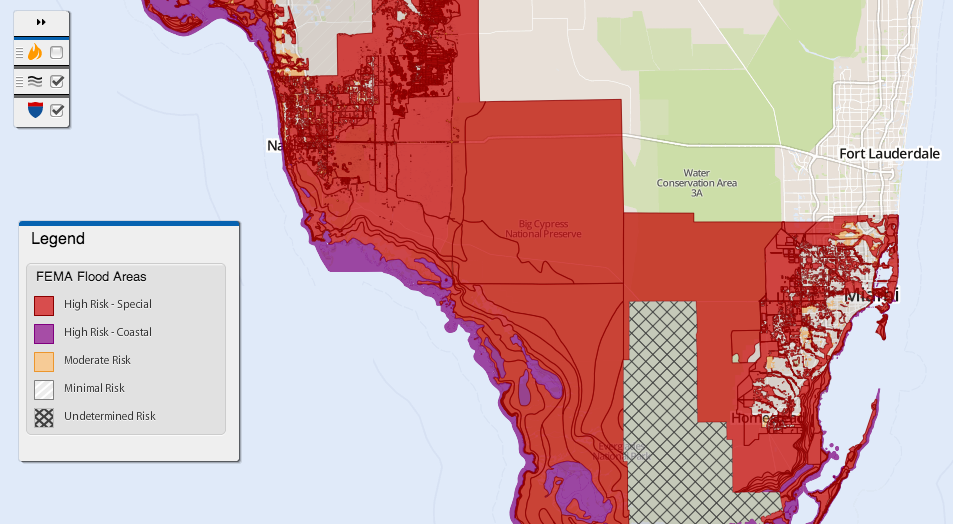 NOAA SLOSH Model – Coastal Surge
The Sea, Lake and Overland Surges from Hurricanes (SLOSH) model is a computerized numerical model developed by the National Weather Service (NWS) to estimate storm surge heights resulting from historical, hypothetical, or predicted U.S. hurricanes by taking into account the atmospheric pressure, size, forward speed, and track data. These parameters are used to create a model of the wind field, which drives the storm surge.
The SLOSH model consists of a set of physics equations which are applied to a specific locale's shoreline, incorporating the unique bay and river configurations, water depths, bridges, roads, levees and other physical features. For more information, click here.
SpatialKey has integrated SLOSH model data for Saffir-Simpson storm categories 1-5.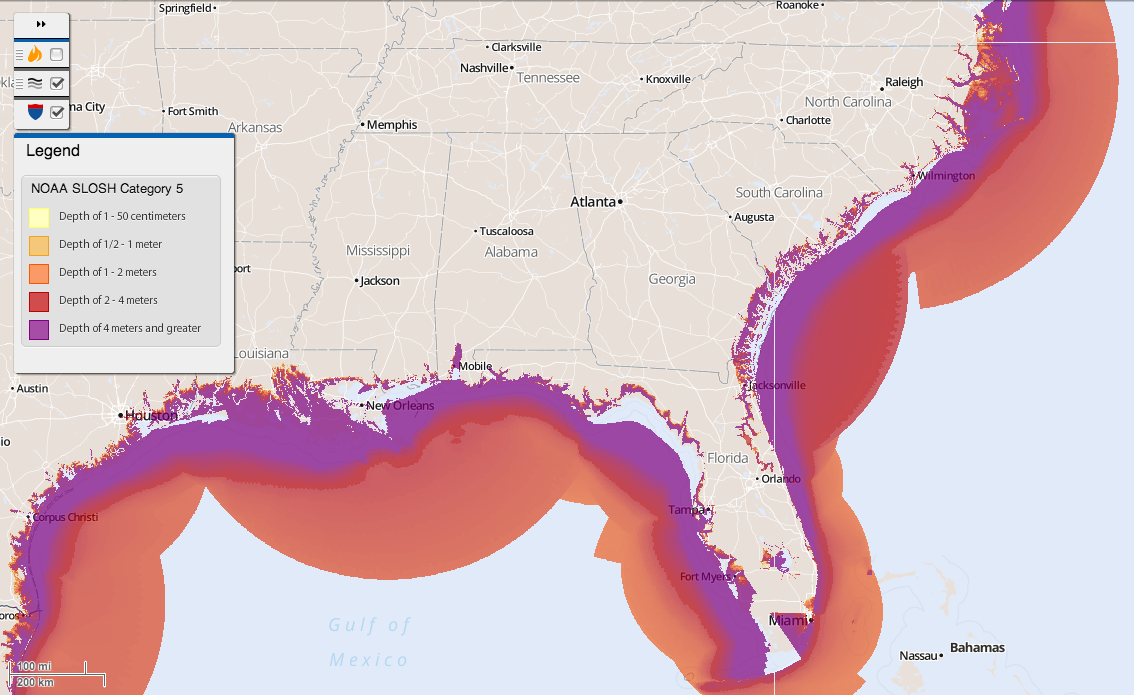 USGS Hydrological Units (HUC Zones)
View your data thematically by a hierarchical system of hydrologic units created by the United States Geological Survey. The hierarchical levels of the USGS HUC Zones, represented by hydrologic unit codes, includes regions (2-digit), sub-regions (4-digit), basins (6-digit), sub-basins (8-digit), watersheds (10-digit), and sub-watersheds (12-digit). For more information, click here.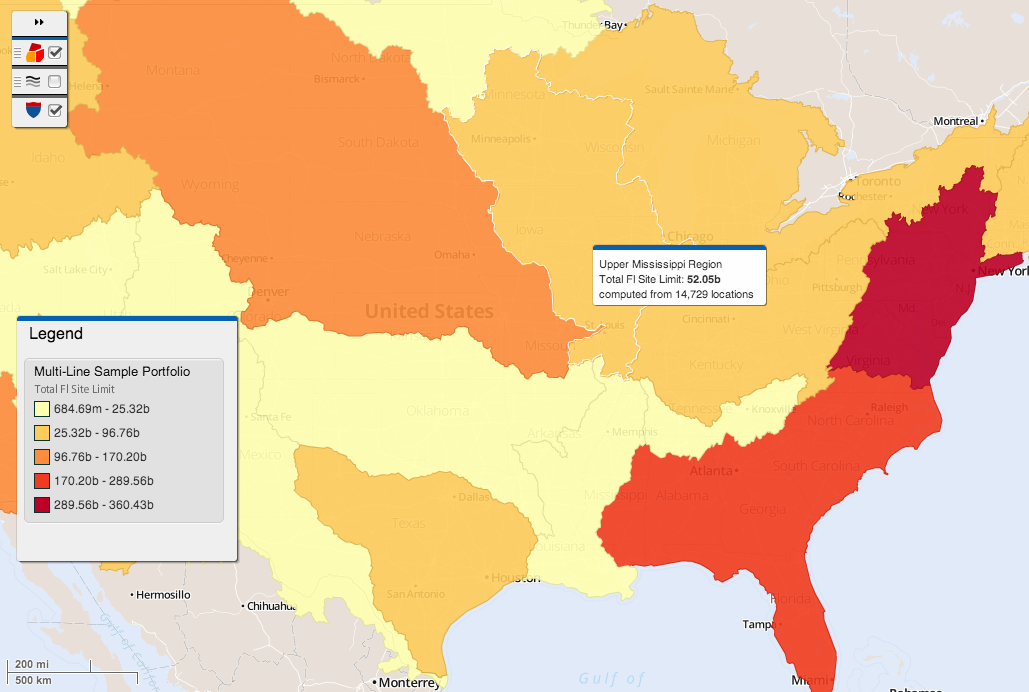 Image above is showing regions (2 digit)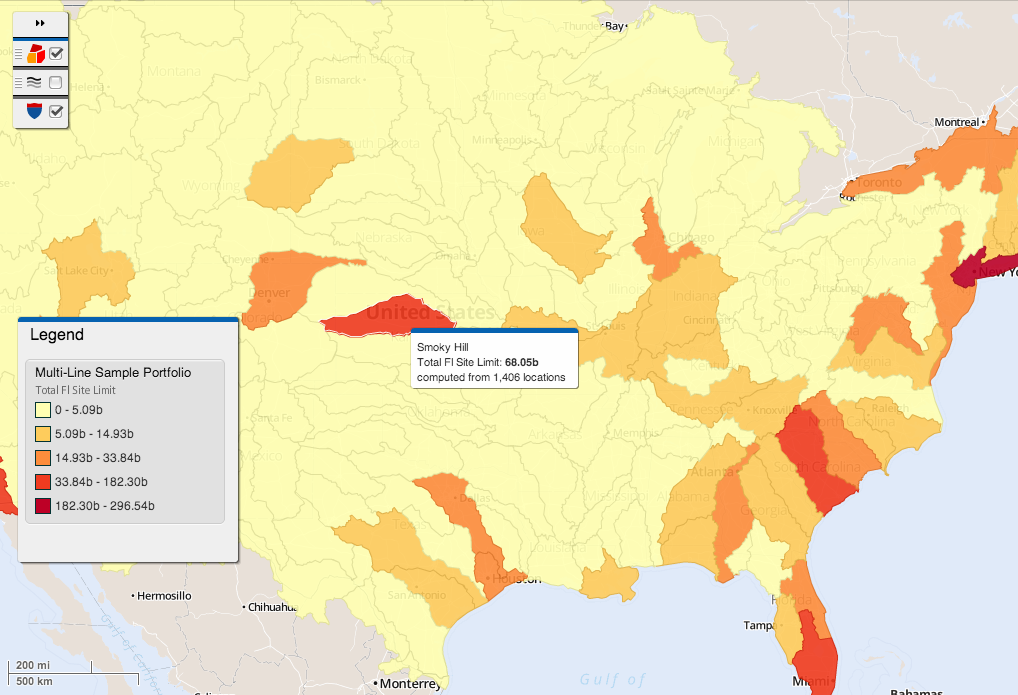 Image above is showing subregions (4-digit)
Note about HUC boundaries
There are some situations where the HUC boundary doesn't extend fully over land and therefore some risks may fall outside of HUC boundaries. See image below for an example.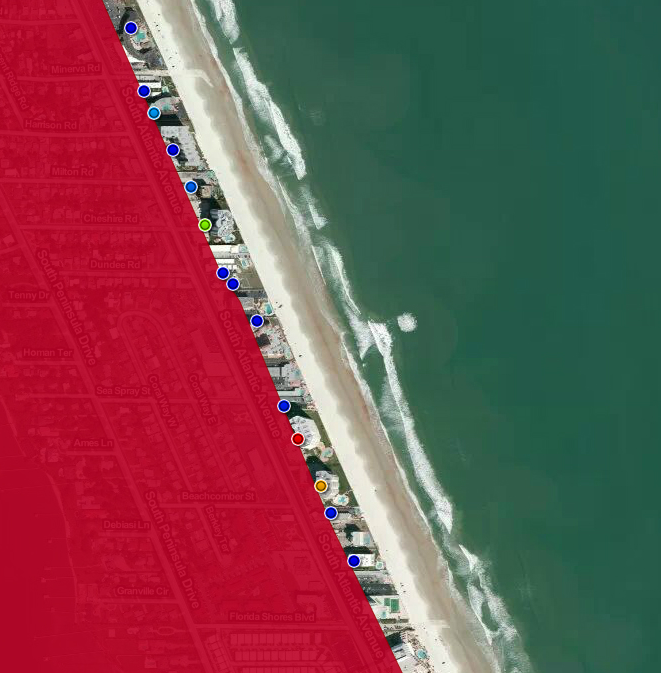 The National Hydrography Dataset team has informed us that their goal is to remove the land/water (shoreline) separation by applying the WBD coastal standard. It will likely be fixed sometime before June 2015. Once the data is updated and available, SpatialKey will update the boundaries so our clients have the latest information available.
USGS Elevation Data
The National Elevation Dataset (NED) is the primary elevation data product produced and distributed by the USGS. The NED provides elevation data of the conterminous United States, Alaska, Hawaii, and the island territories. The NED is derived from diverse source data sets that are processed to a specification with a consistent resolution, coordinate system, elevation units, and horizontal and vertical datums. The NED serves as the elevation layer of The National Map, and provides basic elevation information for earth science studies and mapping applications in the United States. For more information, click here.
SpatialKey is using the 1/9 arc sec USGS NED data set to enhance your dataset locations.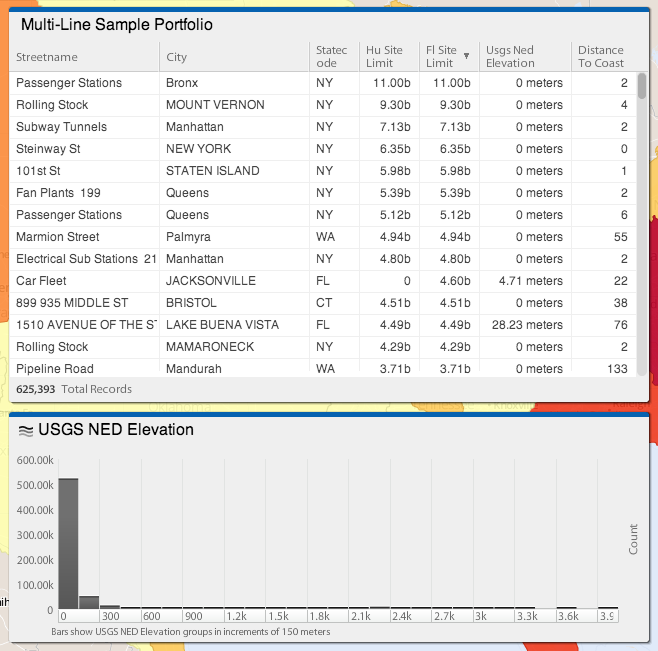 NASA Distance to Coast
Distance to coast is measured in 1km increments. For more information, click here.
SpatialKey enhances your dataset locations with the NASA distance to coast information.