If enabled for your organization, you can view and select datasets to import from the Data Mart. The Data Mart feature mitigates the need for you to invest significant amounts of time in gathering hazard and event data yourself. Within the Data Mart, you can choose from an expanding selection of data and with one click have the data imported into your organization to begin analysis against your exposures.
The Data Mart currently contains both real-time and historical data from industry weather, event, and census data sources. Here are some of the thing that you will find in the Data Mart:
NOAA SPC storm reports
NOAA tropical storm/hurricane forecasts
NOAA historical hurricanes
NOAA historical tornados
USGS earthquakes
MODIS Wildfire perimeters
The Data Mart also enables you to easily add visual map overlays to your dashboards, like FEMA flood zones, precipitation, and cloud cover. This list will only continue to grow as we add more data sources and as you prepare your own data. For detail, check out this article on Data Mart Upload Requests.
Accessing the Data Mart
The Data Mart can be accessed from two areas within SpatialKey. First, you can access the Data Mart via the "Add New Dataset" button on the Datasets tab.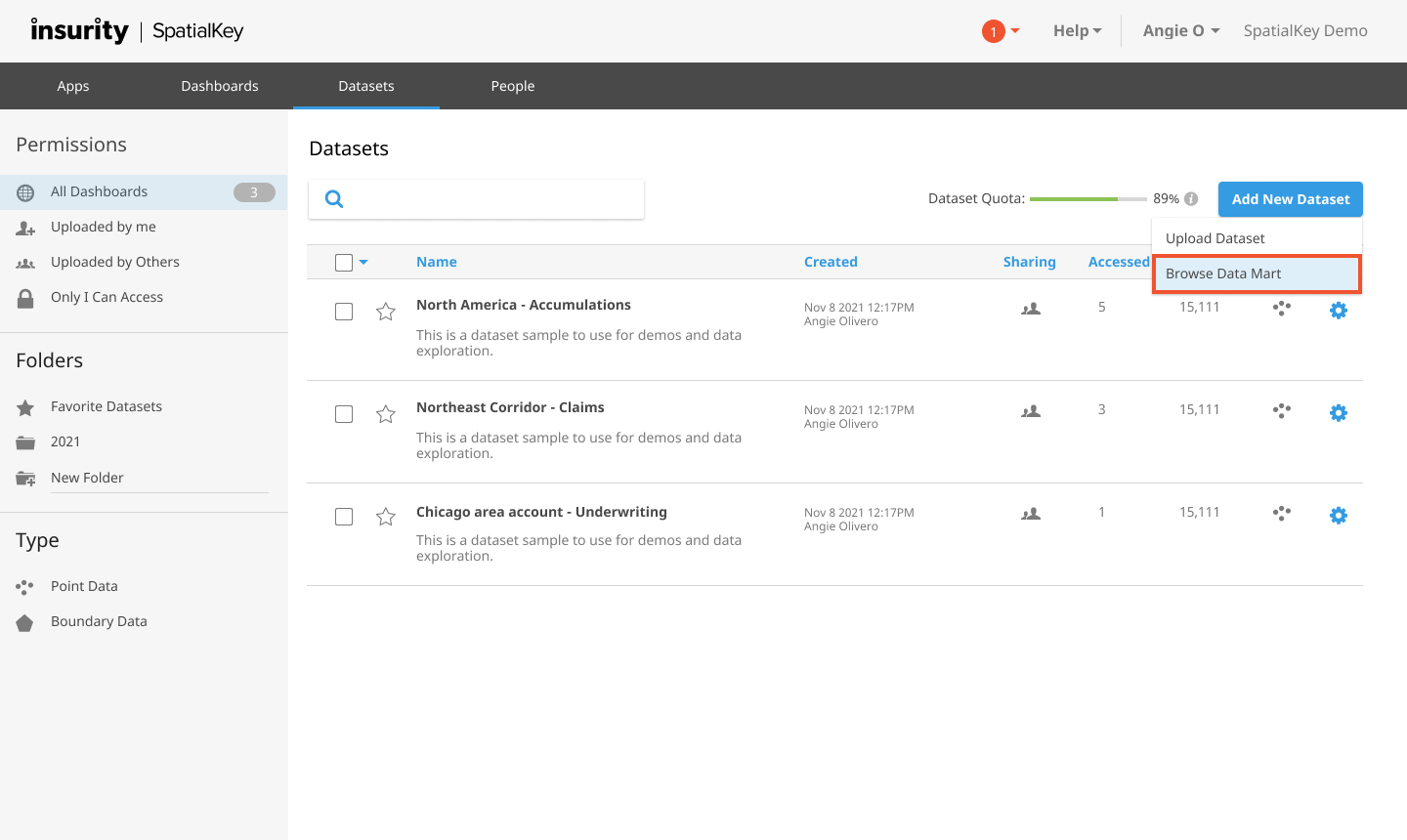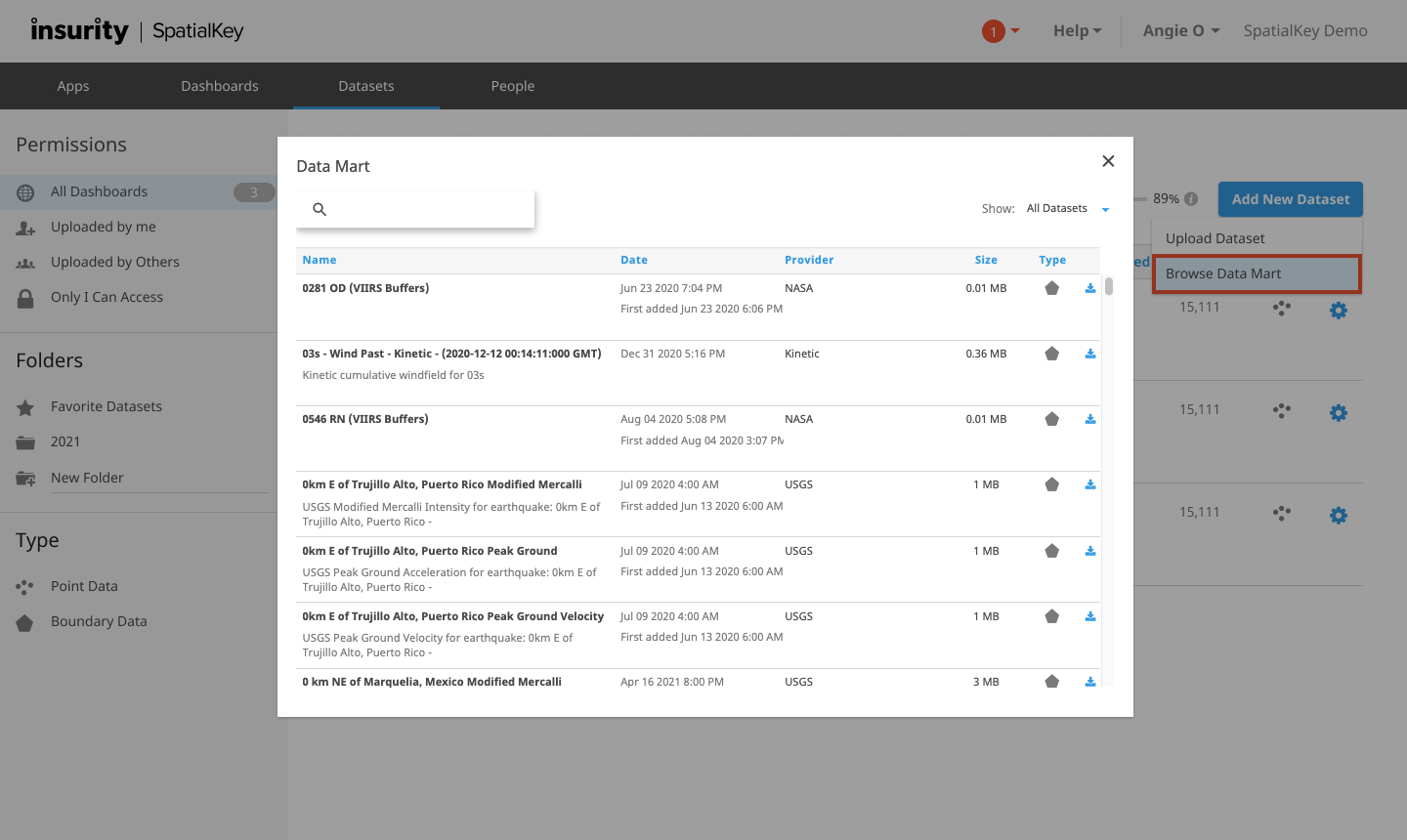 Alternatively, if you have access to SpatialKey Client for Windows applications (i.e., Map Analyst, Hazard Analyst or Accumulations) and are already in a dashboard, you can access the Data Mart by clicking to "add more data" and then selecting the "Add from Data Mart" option.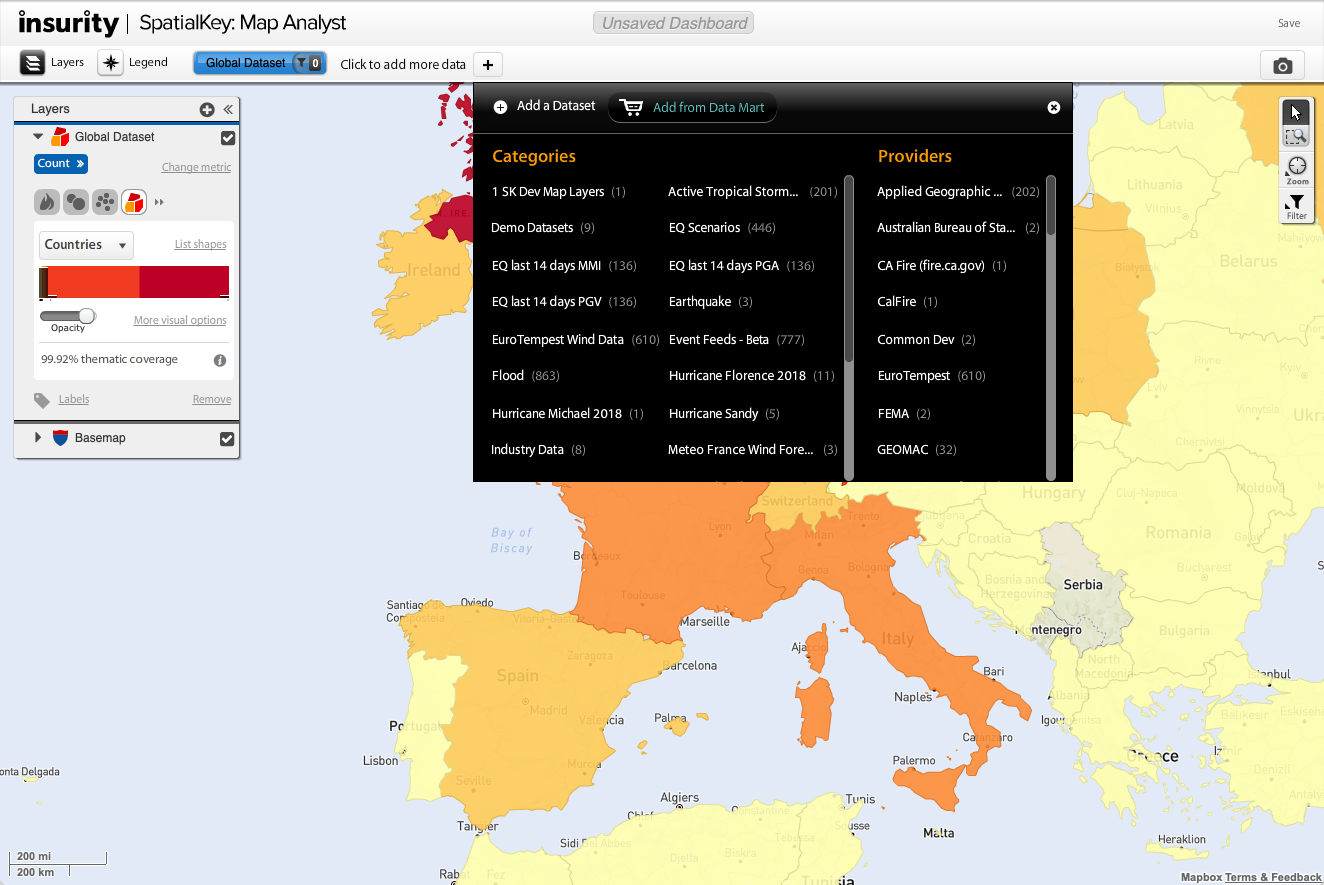 Importing from the Data Mart
Select a dataset from the Data Mart to import so you can interact with it in SpatialKey. After importing a dataset from the Data Mart, it will be available in your Datasets tab. If a new version of an imported data mart item is available, the dataset will be flagged with "update available" and you'll be given the option to update to the latest.
Update from the Datasets tab
From the Datasets tab, you will have the option to "update" the dataset if an update is available. This will update the existing dataset to the most recent version and all dashboards that use that dataset will benefit from the updated information.
You can see if an update is available from the datasets list and from within the settings for a dataset. You can update the dataset to the latest from the data mart from within the dataset settings details screen.