We first built Spatialkey Underwriting as a single-purpose flood underwriting app, and it has now evolved into a multi-peril solution demanding new design and architecture. Underwriting 2.0 includes all of the original flood features you're used to and overlays them on a more flexible foundation that allows you to easily ingest new perils. (Please note that each organization is migrating to Underwriting 2.0 on varying schedules, so please be in touch with your SpatialKey administrator or account rep for your organization's timing.)
This release also includes:

New: Advanced accumulation analysis for terrorism or flood
SpatialKey has developed an accumulation model that's challenging industry standards and causing insurers to question the results they've been using for years. Using a fixed grid approach, we apply more than one hundred rings that run along a grid to calculate your peak accumulation within a chosen radius—including a ring centered around the prospective risk.
You can set up and run one or more scenarios with the following preferences:
Peril: Terrorism or Flood
Radius: Single or up to three concentric rings of any size
Damage factor on each ring
Geocoding accuracy threshold
Exposed limit threshold to see a quick over/under flag in the report (optional)
Default inforce portfolio (optional)
Example: Flood accumulation report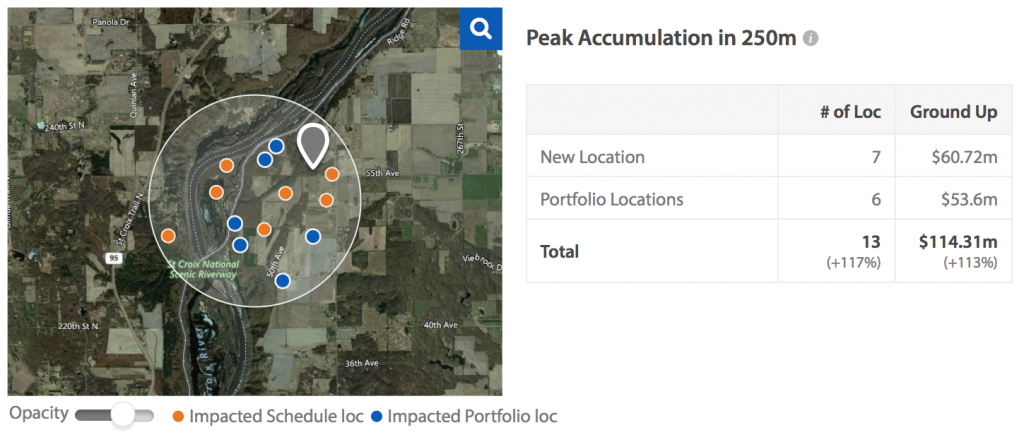 The example above shows a scenario run with a single 250m ring and 100% damage. In this case, the user supplied TIV for the prospective location and ran it against their inforce portfolio. The report displays the peak accumulation and totals up the loss for that ring.
Example: Terrorism accumulation report with concentric rings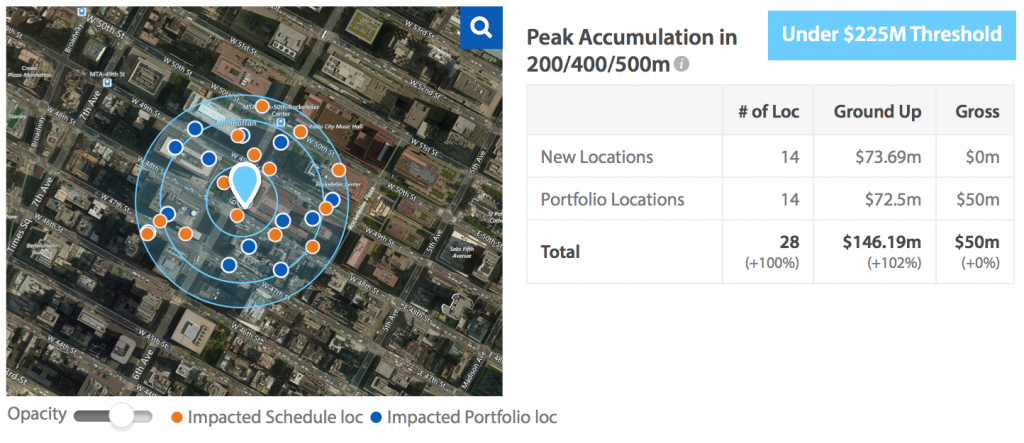 The example above shows a Lloyd's scenario run with concentric rings of 200m with 100% damage, 400m with 25% damage, and 500m with 10% damage. The organization also set up a threshold of $225M in exposed limit based on their underwriting guidelines. In this case, the user supplied TIV and metrics to calculate exposed limit (optional), then ran it against their inforce portfolio. The report displays the peak accumulation and totals up the gross loss, which is under their $225M threshold.
We've updated the report layout to help you quickly scan multiple perils and dig into areas of concern. The new reports have:
Perils grouped by cards for easier scanning
Simplified labeling
Consistent use of color to indicate a high or low risk
Flexibility to expand and handle as many hazards as you license
Example: FEMA flood card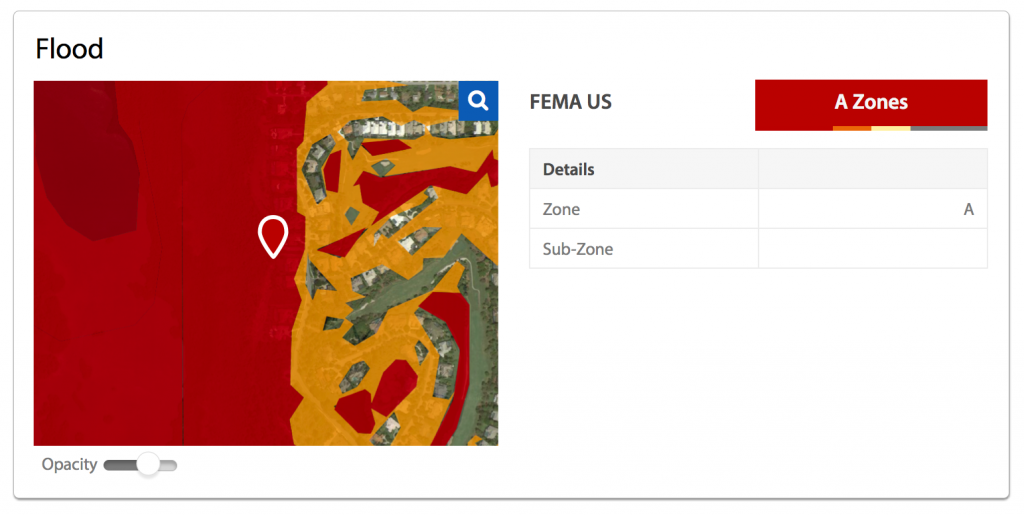 Each peril gets its own card, like what you see above, and perils with multiple data sources get grouped together for ease of use.

New: Filters available across all perils
Along with the ability to analyze multiple hazards, you can also filter by any type of data you license—there's no longer the assumption that you'll only need that capability for a single flood model.
Example: Filter by locations flagged as high risk by KatRisk

The ability to filter and view locations in a list, report, or map appears when you hover on any bin in the scorecard report.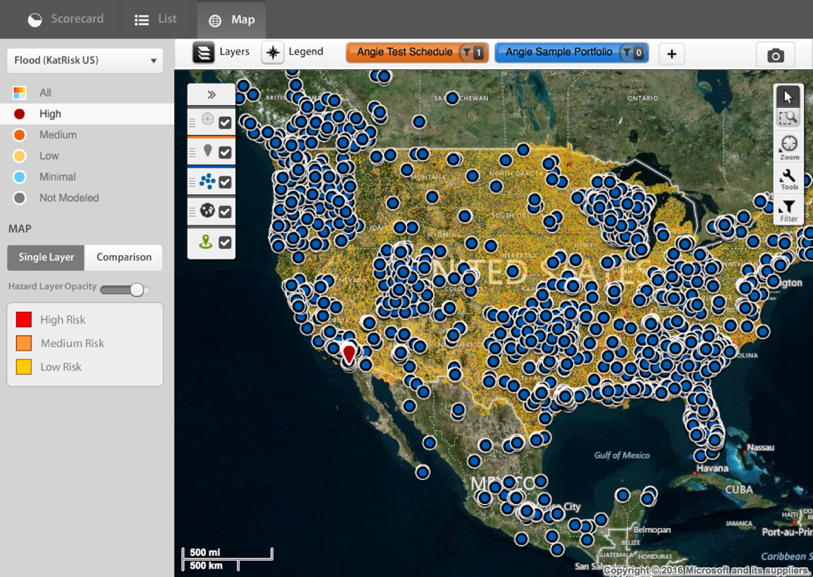 Filters can be adjusted to any other hazard in the left rail in either list or map view.